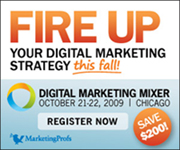 You all know I am an unabashed fan of the site Marketing Profs and their blog Daily Fix.  Ann Handley and her crew are just some of the smartest, most generous marketing pros out there.
So you can trust me when I say…their Digital Marketing Mixer is going to be a "your hand hurts from scrambling to write down all the ideas and must do's for when you get back to work" sort of an event.
Here are the details:
Chicago, October 21 and 22.  (If I wasn't speaking at the Iowa Tourism conference, I'd be there in a nanosecond!)
The speakers' list is a who's who of internet marketing & social media.  You'll meet and learn from the likes of Andy Sernovitz, Peter Shankman, Mack Collier, Amber Naslund, Paul Chaney, Mari Smith, Leigh Duncan-Durst, Ann Handley, Beth Harte, Jason Baer and many others.
It is sick and wrong that all of these people are going to be in one place and I have to miss hearing them teach and learn from one another.
They're going to be talking practical, real content.  How to develop leads from webinars.  How to monitor and measure social media activity, e-mail newsletter campaigns, how to get creative with SEO, how to impact Google…all for the taking.
What are you waiting for?  Click on this link to save $200 on the registration and get to Chicago!  You owe it to yourself to at least take a look at the incredible content and try to figure out a way to get there.
If you're a regular reader, you know I don't gush about too many of the conferences out there.  But this one's different.  This is not for the social media super stars.  This is for you — the marketing pro who is looking for some new ideas, some new contacts and a new playing field.
Have a great time and come back and tell us about it!