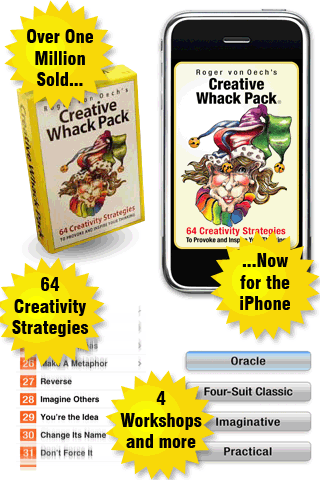 Roger von Oech is responsible for whacking me upside the head more times than I can count. 
20+ years ago, he created a fantastic creativity tool called A Creative Whack Pack.  It's an illustrated deck of 64 creative thinking strategies that will whack you out of habitual thought patterns and enable you to look at your life and actions in a fresh way.
It's an awesome way to think different, to see something fresh and to get yourself unstuck.
Well, it's 2009 and so of course Roger has created an iPhone/iTouch app for thiscreativity powerhouse.  And…he's given me 5 promo codes, so you can download it for free!
Here's how you can win.  Leave a comment below and tell us one way you get your creative juices flowing.
I'll do the drawing on Friday Saturday morning so get those comments coming!
Also, check out what David Armano had to say about the app here and here.
UPDATE:  First, be sure you read through the comments — lots of very good ideas on how to get those creative juices flowing.
Second…Congrats to the five winners of the promo codes:  Tara, Michael, Patrick, Kare and Jason.  I've e-mailed the codes directly to you!