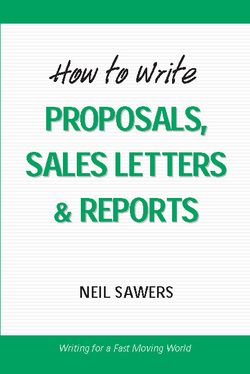 Neil Sawers, a 25+ year corporate writing veteran can show you how.  In his new book, How to Write Proposals, Sales Letters and Reports, he spells it out in easy to understand, follow and learn examples and guidelines.
But don't take my word for it.  Listen to what the Midwest Book Review (one of the most respected reviewers out there) had to say:
"Examples, recommendations of common tools to organize one's thoughts, and a sprinkling of solid business advice fill out this superb, easy-to-use guidebook recommended for business writers of all skill and experience levels."
If you buy the book by end of the day on Saturday the 14th, you'll only pay $10.37 AND you will get a bunch of bonus gifts.  (click here to read about the special promotion and buy your copy!)
But wait….I have five copies to give away.  I will draw for the winners Friday morning, so you'll still have plenty of time to buy a copy if you're not a winner.
To be eligible for the drawing, just leave a comment on this post!
Go forth and write well!
Update:  The five winners are:  Copywriting Maven, Director Tom, Larson Bennett, Kathleen the savvy VA and Erica!