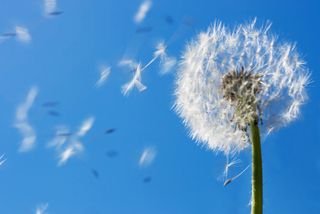 I was part of a panel (with Claire Celsi, Nathan T. Wright & Dr. David Bulla) talking to journalists about personal branding this morning.
Part of my message was that it's fine and dandy to have a personal brand…but one of the keys to its success is in how you share your brand with the world. I used the analogy of a dandelion.
Once you figure out what your personal brand is all about….you hold it out to the world, like a dandelion.
Sure…the wind will gently blow some of the seeds along, letting them land somewhere and take root.  But…if you really want your personal brand to be spread far and near…you need other people.
When someone holds a dandelion close to their mouth and gives a big blow….those seeds go everywhere.  What would make someone want to use some of their power and influence to help spread your personal brand? 
Here are five reasons why someone else might make the effort to spread your personal brand:
Are you a go-giver?  Do you share what you know and have? 

People tend to want to help those people who help others.  If people know that you're not a taker, they're going to be more inclined to serve you up to their friends and colleagues.
Are you a credible resource?
Do you actually have something to say that is real, relevant and of value?  In today's world, one of the currencies that is most valued is relevance.  You need to be someone who walks their talk to earn that credibility.
Are you consistent and reliable? 
People only have so much "connection currency."  So they don't want to waste it by introducing the world (or their contacts) to someone who is wishy washy or doesn't honor their promises.  If I help set up a meeting between two people and one of them cancels at the last minute or is a no show…some of that bad karma rubs off on me. 
Are you real? 
If your personal brand is something you put on and take off like a hat — why would someone run the risk of exposing you to their network?    There are many posers (as Steve Farber calls them) out there.  Don't be one of them.
Are you grateful? 
When someone goes out of their way to feature you on their blog or use one of their connections to help you — do you say thank you?  Do you look for ways you can return the favor?  Do you make them look good by treating that gesture as a gift rather than an obligation or entitlement?
There you have it.  If you want others to help introduce you and your personal brand to the world…be the kind of person who makes that easy and enjoyable! 
Photo courtesy of Shutterstock.com