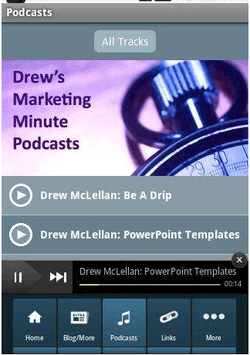 True confession time….I feel a little silly.  And yet a little smart at the same time.
Let me get to the smart part first.  Here's what I know to be true:
Our interaction with the web is shifting very quickly to mobile devices.  It's predicted by 2020 it will be the prevailing tool we use to access the internet.
The new iPad (released in March/April) will bring a new slew of people to the Apple platforms, including the world of apps.
For those who turn up their nose at Apple, the Droid smartphone is taking off like a rocket.
I create a fair amount of content but it's tough to find it all in one place.
Apps are going to be a vital mainstream marketing tool soon and MMG needs to understand that world.
I am too big to fit into your pocket.
Now the silly part.  I'm not a celebrity, famous or even one of social media's superstars like Chris Brogan, Seth Godin or Dan Pink.  So to announce that you should download me onto your iPhone or iTouch (or Droid) feels a bit presumptuous.  (BTW — it's free if that helps!)
But…I predict this will become commonplace shortly and then I'll just be an early adopter.  Besides, it really is the only way I'll fit into your pocket!
And to entice you to download it… I've started creating some Marketing Minute podcasts.  The easiest way to get them — the app.  Short and sweet — now you can even take my voice along with you.
On my app, you'll find:
The new podcasts
My blog posts
My posterous journal
My tweets
Links to my books
My guest posts on IowaBiz and Marketing Profs Daily Fix
Links to my Facebook, LinkedIn and FriendFeed accounts
God only knows what else!
I hope you'll indulge me and give it a try.  You can access it here (clicking on this link will launch iTunes).
If you've got a Droid, you can see your version of the app here (to download, just search for my name in your apps market.
Other smart marketing folks with iPhone Apps:
Jay Heyman (click here to see his app)
C.C. Chapman (click here to see his app)
Seth Godin (click here to see his app)
Chris Brogan (click here to see his app)
Dan Pink (click here to see his app)
Later this week, I'll tell you how Mike Sansone helped me figure all of this out and some of the options out there for all of us geeky enough to want our own app.