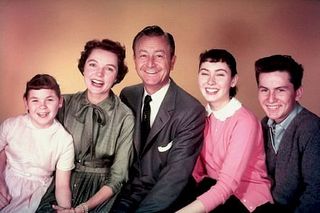 Drew's Note:  As I try to do on many a Friday, I'm pleased to bring you a guest post.  Meet a thought leader who shares her insights every day. So without further ado…Denise Cautela.

Again, enjoy!
Father Knows Best: Online Marketing Best Practices from a Small Business Owner
An entrepreneur, my father owned and managed two local retail chains in the 1980s and 1990s.  I grew up in the family business and credit my father with teaching me important customer service, business ethic and product quality values that extend into my current role helping companies manage their online marketing programs.
Even then, my father's business practices were considered "old school." He demanded we count change back directly to customers instead of relying on the cash register; he would not close the store until the very last customer was ready to leave (even if it was well past closing time); and he insisted that we manually count inventory monthly because computers were not foolproof and the numbers in the dot matrix printed reports could be wrong.
While these business practices may seem a little "dated," the underlying philosophy was an important life lesson and provided the foundation for my own best practices for online marketing today:
Be loyal to your customers and they will be loyal to you
My father always made a point of building a strong connection with the local customer base.  In today's market, we have a variety of inexpensive and easy-to-use Web 2.0 tools at our fingertips to spark and maintain a dialogue—and strengthen bonds with customers.  Tap Social media vehicles like Facebook Fan Pages to build connections and stay ahead of new trends by listening to what your customers have to say and what they want.
Be honest on your website, landing pages and email campaigns.  Clearly explain your business, what you offer and the value your product or service provides customers. Same goes for information you provide for any blogs or RSS feeds. Full transparency and honesty builds a level of trust with existing and prospective customers that can result in up sell opportunities and referrals, and of course, keep your customers coming back.
Make it easy for your customers to find you
Smart Pay-per-Click (PPC) campaigns put your product or service directly in front of those looking for you. It is the most direct, cost effective way to advertise on the Internet today.
List your business in as many online directories as possible. These directories are like signs pointing to your website in front of people driving by.
Search engine optimization (SEO) done right can indirectly pull people into your website and help improve where your business appears on search engine result pages.
You have one chance to make a good first impression
Each one of my Dad's stores had a distinct look and feel, and products strategically placed for easy access. How your website or landing page look, and the ease of use/navigation is critical. You may only have one chance to make that good first impression—make sure it counts.
Denise Cautela, VP of Marketing at ClickFuel, has nearly 15 years of experience in a wide range of strategic marketing and communication roles. A multiple award winning marketer, Denise is responsible for building out the ClickFuel brand, generating new business and strategically supporting the channel and direct sales efforts. Before joining ClickFuel, Denise was with Monster Worldwide for more than five years in a variety of leadership roles, most recently Sr. Director of Marketing, Emerging Markets.