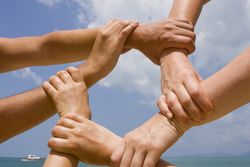 Now, now…I didn't mean it like that.  I mean in the "hang out and talk marketing, social media and connections" sort of way. 
Chris and Ann (along with a host of others) are both playing a role in this Spring's hottest conferences…and I want to make sure you know all about them.
Why would you make the effort to catch one?  Connecting on-line is fantastic.  But, there's no substitute for face-to-face connections.  Here's are two chances for you to literally and figuratively lock arms with some of social media and marketing's smartest folks.
How do you suppose Chris and Ann grew to be marketing/social media rock stars?  I suspect they would both tell you — it happened as they were so busy learning and reaching out to others that being "famous" pretty much took them by surprise.
Two character traits that I believe you'll find in most of the professionals who have leveraged social media, content creation and viral marketing to their own and their company's advantage are:
They love to connect with people
They are generous with what they know
So you need to take advantage of these opportunities to listen, learn and connect.  And I highly recommend you get to one of the two, depending on the timing and your geography.
SOBCon 2010: (click here for more info or to register)

Here's what they have to say:  "This 2.5 day "conference" is the think tank of the social web, where the best minds in the Internet space gather to present models, discuss insights, and determine best practices.
We review the changing landscape, identify valid strategies, discuss and develop tactics, report case studies, and share actionable business ideas.
If you want a dynamic, protected web presence, a vibrant customer community, and innovative advisors who invest in you for the long term, this single event will meet your needs faster, easier, and more deeply than any other.
The relationships made at SOBCon extend across social networks online and off and well beyond the exchange of business cards."
A very partial list of speakers includes:  Jason Falls, Steve Farber, Chris Brogan, Wendy Piersall, Amber Naslund, Steve Woodruff and a host of other amazing people you'd love to hang with for a couple days.  And yes…I will also be there as part of a panel.  (Naturally, founders Terry Starbucker and Liz Strauss will be very present as well!)
The discount:  If you use the code: SOBInsider you can save $250 off the registration.  But hurry — this offer ends this week.
B2B Forum 2010: (click here for more info or to register)

Put on by the stellar people at Marketing Profs, this is your one-stop shop for the skills you need to drive sales now!   Here's what they have to say:
"You asked for it and we're delivering you a broad-based B2B marketing educational program with a special focus on integrating social media.
You'll learn from B2B marketing experts in a variety of amazingly productive formats from panel discussions to roundtables to one-on-one therapy.
Therapy Sessions are worth the price of admission alone! Where else can you get 20 minutes of one-to-one advice from a top-level expert for FREE? Sign-up for an appointment with the expert of your choice and get 20 minutes of his or her undivided attention! Bring specific questions, or ask for an overall critique of your marketing program.
Loyal attendees flock to these FREE consulting sessions year after year! "
A very partial list of speakers includes:  Beth Harte, David Weinberger, Mitch Joel, Dierdre Breakenridge, Laura Ramos, Donna Tocci and my all time favorite, CK Kerley.  I'd love to be there too (was invited but had to say no) but I already have a speaking commitment I couldn't break.
The discount:  Use the code:  blog to save $200. 
There you have it my friends.  You have absolutely no excuse for not being smarter and better connected, come May 10th.  Invest in yourself… you'll be amazed at what you can learn and do!