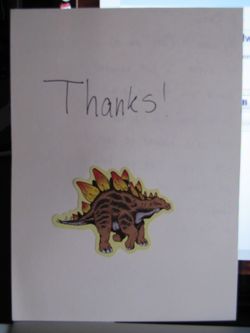 I was speaking to a college class on Monday night and our conversation reminded me of this tip.  Handwritten notes are practically unheard of today.  Everyone fires off an e-mail or texts a quick thought.  But for someone to sit down and take the time to actually write a thank you  note (or any sort of note) is an almost forgotten art.
Which is why it is so noticeable and memorable.
The photos to the right are a thank you note that I received nine months ago from a developer at Wufoo.  (Wufoo is an awesome online tool that lets you create interactive, HTML-based forms on the fly).  We've been a happy and loyal customer for a few years now.
Anyway — for no special reason and on no special occasion, I get this homemade handwritten card from Chris, one of the Wufoo developers.
Let's look at this "high end" card.  He took thick construction paper and put a dinosaur sticker on the front.  Then, with a pen, he created the "Thanks" on the front and wrote me a quick note on the back.  He thanked us for our business and said that they valued our trust in them.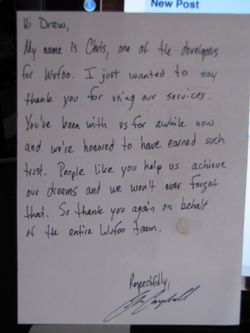 I still have the note.  It sits on my desk.  I get tons of e-mails and other electronic forms of communications.  None of them are displayed on my desk.
Handwritten says you went out of your way.  Handwritten says you have good manners, handwritten says it really mattered to you.
Handwritten notes are brilliant marketing.  What if you wrote one thank you note a week to a customer, employee or vendor?
I think you'll be stunned at the response.  Try it and let me know.