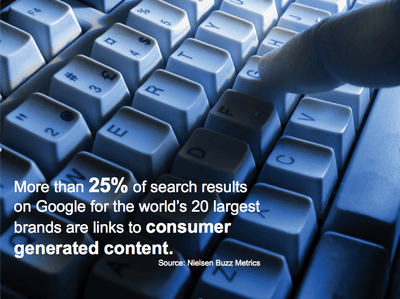 Everyone talks about being on that elusive first page of Google.
It's the pinnacle of success and companies spend thousands of dollars to try and outspend their competitors.
But in the end, it won't be your competitors who trump you.  It will be your consumers.
Today, if you Google one of the 20 largest brands, over 25% of the search results will be links to consumer generated content.
Why does that matter to you? Let's look at these truths:
Social media is in its infancy and the volume of content is just going to grow.
Websites that welcome consumer feedback and ratings are beginning to go mainstream, which means every Tom, Dick and Harry will be sharing their opinions about every product, service and store pretty soon.
Study after study shows that consumers are ranking the reviews, opinions and recommendations of the average Joe blogger or reviewer above those of "official sites."
In other words, your customers — be they happy, amused, annoyed or so mad they could spit — are talking about you and the entire world is listening.  Including Google.
What do you do about it?  Several things, including:
Create a listening/monitoring plan for your company.  You need to not only know what's being said about you — you need to know when/how to respond to it.  If you can react quickly to problems aired in public, you can quiet the rumble and also demonstrate your customer service style.
Create content.  The only way you are going to outperform user generated content is to create content of your own.  There are a ton of ways to do that effectively from online video, e-books, blogging, an article bank on your website, etc.  If they're the only ones talking…guess who is going to be relevant.
Share and connect.  Don't count on just your own efforts when you think about creating and distributing your content.  By creating alliances and collaborations, you build an online network that will help you introduce your efforts to the world.  Think of it as social media compound interest!
If you want to win the search engine battle, you have to actually get into the game. Check out this post on by Joe Pulizzi called 15 Content Marketing Keys to Success.
Hopefully, it will fire you up to jump in. Otherwise, you're going to be the spectator — watching what the marketplace has to say.
Note:  The visual above is one of the slides from my "Small Business, I'd Like to Introduce You to Social Media" presentation.