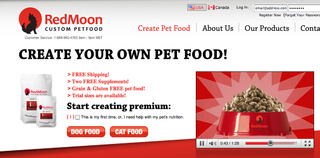 For the last decade, marketers have been talking about customization.  
We've acknowledged that the Baby Boomers had both the personality and disposable income to generate enough market pressure that companies big and small started adding options and choices to their offerings.  
Often, the options were window dressing. Sprinkles versus nuts.  Companies were trying to meet the demand without going out of business.
The challenge in the early days was finding enough customers to make the customization profitable. Somehow, you had to have enough demand for each version so you could still apply some principles of mass production to manage costs.
But today…the mass adoption of the web has answered that question.  How do you find enough customers?  Go online, of course.
The New York Times reports that the marriage of the worldwide customer base on the internet and customization hunger are a match made in heaven.  Check out these stats.
"Zazzle, CafePress and Scrapblog, a site that lets people create and print digital scrapbooks, have each reported 80 percent increases in sales this holiday season compared with last year. Orders at Spreadshirt, where people can customize shirts, bags, umbrellas and even underwear, have doubled. At Blurb, where people create their own photo or art books, sales are up 43 percent.
Meanwhile, overall e-commerce sales have grown only 4 percent this season, according to comScore, and offline retail sales have barely grown at all."
And now…even your beef jerky can be built to order. New Jersey's Slant Shack's jerky offers customers numerous choices.
Traditional USDA choice or organic grass-fed beef?
An original or a "hot & smoky" marinade?
A rub of four tantalizing options or the "naked" approach.
Finally, brown sugar or spicy pepper glaze.
(No doubt my friends David Armano and Connie Reece are going to order some today!)
Why am I telling you all this?  Because it matters to your business, whether you are a CPA firm or a bakery.  The Boomers created the demand.  But today's digital natives have grown up surrounded by it.  They don't know anything else.
So you can't go the sprinkles versus nuts routine.  You need to actually offer real choices that matter to your consumers.  Cookie cutter won't cut it anymore.
The good news is…you can build customization into many aspects of your business:
Your products or services
Delivery speeds/methods
Packaging
Billing options
So….how are you going to give your customers real choices that matter to them, feel significant but don't break your business model?