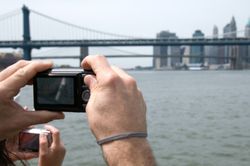 Whether you work at a Chamber, CVB, local attraction, hotel or an agency who does tourism and hospitality work — your world has changed.  Any marketing effort that does not include some elements of social media is missing out.
But you're smart enough to know that you just don't slap a Twitter account or Facebook Fan Page together and hope it works.  You need to integrate the SM tactics with the rest of your efforts.
Easier said than done, yes?  That's why I want to tell you about an online course that will help you get real results.  Real, measurable results.
You know I don't "pitch" or try to sell you stuff.  I only tell you about the things I truly believe in.  I'm not willing to risk your trust on anything less.
Becky McCray and Sheila Scarborough are some of my favorite people.  They're straight-shooting, pragmatic and hysterical.  I know you don't need hysterical to learn, but it sure helps!
There are often one of three problems with social media training:
It is too basic and generic
It is too advanced and nerdy
Or it is well-balanced but not tailored to a specific industry
Not this course.  
They didn't create this course out of the blue — they created it from their own experiences as they work with tourism organizations and destinations around the globe.  You won't get fluff or puffery from them…you will get real world examples, real world metrics and real world war stories.  And when I say real world…I mean from your world.
Best of all — they teach you how to fish.  This isn't theory… this is "get your hands dirty" learning.  
Check out the course.  Read their bios.  Let them make you even smarter.
Click here to visit Tourism Currents. *
*Yup, this is an affiliate link.  I have no idea how much I get paid if you click on it or take the course because that's not why I am telling you about it.