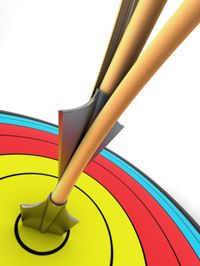 One of the most frustrating "worries" that marketing types sometimes express is that they want to use weasel words in their marketing.  Words like "nearly," "over" or "almost all."
Typically, they're worried about someone calling them on the details so they want to hedge their bet.
Look at these two sentences:
We've served nearly 1,000 happy customers.
We've served 973 happy customers.
Which one feels more genuine and truthful?  Which one causes you to stop and think about the significance of the number?
Which one makes you think they really counted?  Exactly.  
In your sales and marketing copy — be specific.  Brian Clark at Copyblogger wrote about this topic and said "Non-specific copy is a red flag that signals puffery and a lack of substance, and yet it's all too common."  Amen!
Go back and review your website, brochure, sales collateral and other marketing materials. If you aren't being specific — it's time for a re-write or an honest conversation about why you can't/won't.