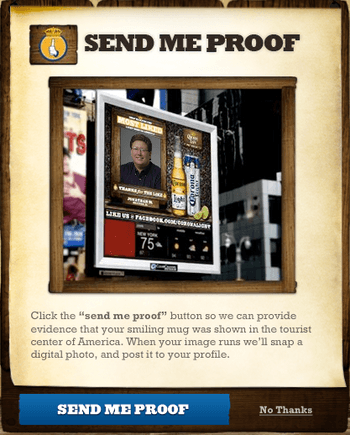 Corona Light has launched an interesting campaign — anyone who likes their Facebook fan page is invited to upload a photo of themselves…and they will appear on a 150-foot digital billboard in Times Square.
As you upload and size your photo, the fan page will show you how you'll look in the Big Apple's hottest spot.
The billboard (and fan photos) will be up from November 8th through December 5th.
If you click on the send me proof button — you are basically giving them permission to publish a digital photo of the board with your mug on it…on your Facebook wall.
I don't know how many fans they started with, but they're up to almost 57,000 likes as of today.
I can hear you now — cool idea Drew but I don't really have the Corona Light budget.  How does it apply to me?
Do you have an e-newsletter?  Why not spotlight some of your Facebook friends/fans there?  Run a contest to solicit "why I love company ABC" on your Facebook fan page…and publish the best answers, along with a little blurb about the winners.
Does your local community have a digital billboard?  Most do today.  Why not do a local version of this?
Have a website?  Could you spotlight some of your Facebook fans/likers there?
Uber local?  How about a fan/like only party?  Bring them together, buy them a beer and let them network.  
No matter what you do….be sure you build in these three components.
Shareable:  Nowhere is sharing more critical than Facebook.  Be sure your fans can share your content, your contest, their participation and their enthusiasm.
Easy:  Don't make me work to like you.  A couple clicks, an easy upload.  Good.  Writing an essay, doing a cyber scavenger hunt, or having to recruit a minimum number of my friends to be your friends… bad.
Emotional:  It can be fun, it can be heart-tugging, or it can make them mad.  But get them to feel something to get them to do something.
That's it — go get yourself some new fans/likes!