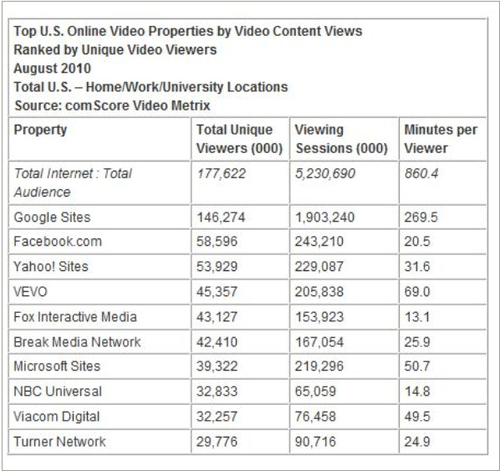 Are you creating and sharing video as a part of your marketing strategy?  No doubt you are uploading your work to YouTube as you should.  YouTube and parent company Google top the charts, in terms of online video views.
No surprise there.  
But what might surprise you is that Facebook is #2. Over  58.6 million Facebook users viewed at least one video in August 2010.  That group of people racked up 243 million viewing sessions among them.  That's a lot of eyeball time!
So, if video is part of your mix — don't stop at YouTube.  Be sure you're sharing and spotlighting your videos on your Fan page or through your newsfeed updates on Facebook too.  
One of the added benefits of sharing video on Facebook is how easy it is for your friends/fans to take that video viral.  With a simple click, they can like, share or comment on the video — instantly putting it on their newsfeed too.  (Assuming their privacy settings aren't incredibly stringent.)  
In some ways — that instant shareability (I know it doesn't exist but it's a good word!) trumps the volume that YouTube can give you.  The Word of Mouth reference is golden and sure beats 3 strangers stumbling onto your video.
Don't get me wrong — YouTube is still king but in terms of creating buzz, borrowing credibility from your friends/fans and generating some word of mouth chatter — Facebook is tough to beat.
I'm curious — are you more likely to watch a video that a friend has commented on or shared…or one that you you see referenced in a news article, blog post or some other third party mention?