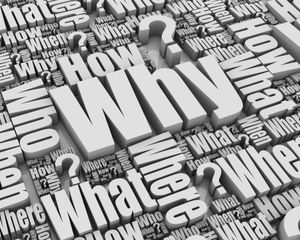 I mentioned The Conference Board's Senior Marketing Executive Conference a few weeks ago.  Today, at the pre-conference workshop conducted by John Carroll, SVP at Synovate's Customer Experience group, the discussion revolved around tracking your customer's experience and tying the research data to changing behaviors.
So we started talking about customer surveys and how most often, companies default to the standard questions.  Satisfaction levels, rate this or that on a scale of 1-5.  John pulled out a hotel survey where they literally had 3 questions on the shower head (seriously — the dispersion of the water?).
We either ask questions that are too vague and nebulous or we drill down to the wrong details.  We then got into the intriguing idea of building your survey around the goal of changing a specific behavior.
For example, Whirlpool recognized that when people went to buy big appliances, they often went to a big box store (Home Depot, Lowes etc.) and that those salespeople were often influenced by whatever manufacturer spiff (a monetary reward for selling a specific brand or item) happened to be in play.  So Whirlpool wanted to encourage their prospective buyers to overrule a salesperson's recommendation, if it wasn't a Whirlpool product
When they started designing their survey around these types of very specific (not buy more Whirlpool) prescribed behaviors, they had an element that was real and measurable.  They also had a very tangible goal.  Now they could get very strategic in thinking through how to move that specific needle.
Interestingly, in the end, the strategy they came up with is that they used marketing dollars to put Whirlpool salespeople on the big box store floors.  They found that most people didn't feel knowledgeable enough to override the influential salesperson.  So they brought in their own.  Whirlpool execs admitted they wouldn't have considered that as an option, if it weren't for the focus in the research.
So here are a few questions for you to chew on today:
What very specific, measurable behavior (not buy more, recommend me more etc) do you want your prospects to engage in?
What types of survey questions could you ask to measure that?
What marketing strategy could you employ to influence that behavior?
Note: I'm at this event as an invited guest because they thought I'd find the topics of interest and relevant to you.  While I'm under no obligation to write a single word, if the rest of the speakers are as thought provoking, you'll hear more about it!  Stay tuned.