One of the definite perks of being on the SmartBrief on Social Media's Advisory Board is that we get sneak peeks at some of their offerings.
When I got an e-mail today with a copy of their about to be released research report called The State of Social Media for Business 2010… I dove in to see nuggets I could find.  (You can download the a summary report for yourself by clicking here.  You can purchase the full report here.)
The chart below illustrates one of the more telling bits of data.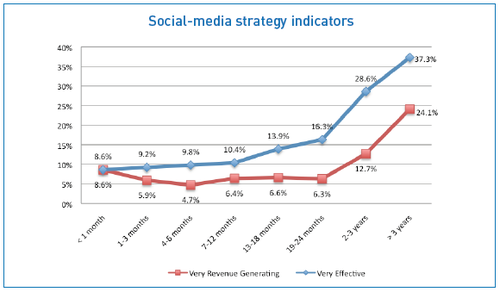 Of the 6,000+ executives surveyed, only 14.2% of businesses find their social-media strategies to be "very effective" – and only 7.3% consider them "very revenue generating."
But, I suspect that as they pondered that specific question, most of them thought to themselves — "what social media strategy?"
Somehow, and perhaps it is the low to no cost of entry, organizations of all sizes have blundered into social media without any idea of why they're there, what they want to accomplish or how they're going to know if it's working.
If I said to most business owners or marketing directors — I'll give you $10,000 worth of advertising time on television and we'll produce the TV spot for free — they would not grab the camera, shoot anything they pleased and then just run the spot whenever they felt like it.  
And yet businesses big and small launch a Facebook page or Twitter account just to say they have one, post random (or worse, self promotional) content on an infrequent basis and then wonder why it's not generating any traffic.
Add to that, I'm betting if you asked those respondents who say "very effective" how they defined effective, many would admit that effective = doing something.  That's not effective, that's just showing up!
I know social media is in its infancy.  I know everyone is still trying to figure it out.  But… the idea of having a strategy isn't new.  The idea of maximizing your investment (both time and money) by integrating your efforts isn't new.  The idea of looking before you leap isn't new.
If you cannot articulate your marketing strategy and then point out your social media strategy within that bigger picture… then you'll never be able to check the very effective or the very revenue generating box.
No matter how many Twitter followers you may have.