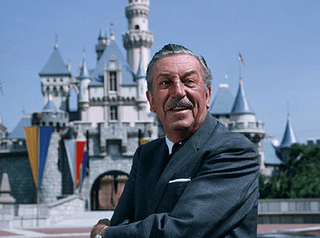 As you may know, I am a Disneyophile.  I love the Disney parks, I love the Disney movies' happy endings, I love the unrelenting pursuit of better customer service that drives Disney to their own level of excellence.
I also love Walt Disney's story.  
I know he wasn't perfect by a long shot.  But he was a dreamer, a story teller and a man who believed so strongly in his own vision that he ignited the people around him until they were as caught up in the dream as he was.  And despite being told no about a million times — he just keep at it until his dream came to be.
But if you've studied his life like I have, you discover that his philosophies are incredibly simple.  And in that simplicity, incredibly profound.
When asked how to build a successful business, he replied:
"Do what you do so well that they will want to see it again and bring their friends."  
Pretty much sums up referral selling, word of mouth marketing, and customer retention all in one sentence.  And in the end — isn't Walt talking about creating a love affair with your customers?
Do you think we make it too complicated?  Do you think Walt was right? Is that really all there is to it?