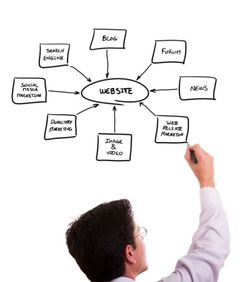 Running a website can be a challenge. But today, having a website that works hard for you 24/7 is a business given.
Here are three things every business owner must have on their website. 
Call to Action
Visitors need direction. With ever-shortening attention spans, you have moments to engage your visitor and guide them to the next step in the sales process. Determine what you want your visitors to do (submit a contact form, sign up for your newsletter or purchase your product) and make sure you have a prominent call to action on every page of your website. This could be your phone number in the header, a newsletter sign up form or a big green "Buy Now" button. Whatever it is, it needs to be obvious.
A clear call to action isn't just about adding a big button, it's also about reducing clutter. Strip away any irrelevant content and links, and stick to the essentials.
Compelling Copy 
Copy is what helps drive your visitors to take action. Without an effective headline or explanation of your value proposition, most visitors won't make it past the homepage. Compelling copy should be short, simple and motivating.
Short – As I mentioned earlier, your visitors have a limited attention span. Try to communicate your message with as few sentences as possible. When paragraphs are unavoidable, use headlines, bullet points and section headers to organize text.
Simple – Use simple language and short sentences. Every message should be boiled down to its core, avoiding industry jargon and acronyms. Always write as if you are speaking to a class of 6th graders who have never heard of your product or service before.
Motivating – Your copy should drive action! Replace dry mission statements and boring product specs with emotion and humor.
Consistent User Experience
Creating a "consistent user experience" is a little less concrete, and in some cases more difficult to achieve, but it is an important concept to be aware of. User experience is the way users feel about your company while interacting with your website. Several factors influence user experience:
Design – Your design should reflect your brand. It should also resonate with your prospective customers. For example, a home improvement website targeted at middle-aged men, should "feel" like a place where men want to buy tools, tile and hardwood.
Credibility – Design also plays an important role in website credibility. It may be shallow, but a visitors first impression of your company is formed within seconds of landing on your homepage. Credibility isn't just about having fancy seals on your checkout page, it's about creating an environment that is transparent, professional and forthcoming.
Ease of use – Visitors should be able to navigate your website without getting frustrated, lost or confused. This includes adhering to web standards, providing clear, consistent navigation and creating an intuitive user interface.
Getting Started
Not sure where to start? Fortunately there is an abundance of affordable, easy to use online tools that can help you identify areas of your website that need immediate attention. 
 UserTesting.com (starting at $39/user) offers videos of real users completing tasks on your website.
 Concept Feedback (starting at $99/expert) provides website evaluations from experts in design, usability, strategy and copy.
 ClickTale (paid plans start at $99/month) allows you to watch your visitors browsing your website, as well as analyze heatmaps and conversion funnels.
Have a tool or technique of your own? Let us know in the comments!
This guest post was by Andrew Follett, the founder of ConceptFeedback.com, a website feedback tool offering fast, affordable website evaluations from design, usability and strategy professionals. Evaluations provide specific recommendations to grow revenue and increase conversion rates. You can follow Andrew on Twitter, or by reading his website optimization blog.
Note: The Concept Feedback links are affiliate links.