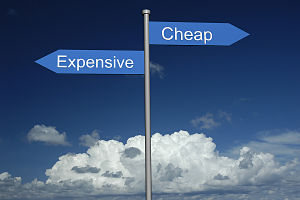 I was having a brief conversation with @NealShaffer on Twitter yesterday and the gist of our conversation was:
Half of small & medium businesses are using social media for marketing (Neal)
Yes…but few are doing it well.  They don't apply marketing smarts (Drew)
True, but huge potential to maximize social business (Neal)
No doubt.  But when done wrong, potential for damage is equally large (Drew)
I agree completely (Neal)
See — that's the problem with free.  Business owners (or many so called social media experts) look at the price of entry for having a presence on Facebook, Twitter, LinkedIn, Pinterest or (fill in the blank for whatever's hot in SM) and they think…."you can't beat free!  Even if I suck at it, it didn't cost me anything."
Wrong. So wrong.
Would you buy a TV commercial that had misspellings?  Or instruct the announcer to swear or say something off color?  Or better yet…would you buy radio time and then not put anything there…so you basically bought :60 of silence?
Would you promise that your newsletter would be packed with useful information and then blather on about yourself, your sales and your products when you get around to sending it?
I'm sure you're saying (or at least in my head) "No, Drew of course not."  So why in the world do you (universal you, not you you) do it on your social media sites?
We see unprofessional behavior on FB pages all the time.  And abandoned blogs, Twitter accounts etc.  And the biggest sin of all — being boring because you can't stop talking about yourself.
Here's the thing.  People have gotten a little numb to selfish, self-centered marketing in the traditional marketing space.  It's not right, but it's been going on for so long — we accept it as the norm.
But social media is different.  Social media promises real people.  It promises relevance.  It promises a relationship.  It promises timely interaction.
And if you violate any or all of those promises, here's what happens:
The good feelings I had for your brand/company are gone
I feel like you lied to me/tricked me
I will simply choose to disconnect from you
I won't be interacting with you anymore…which means my feelings for you have no chance at turning more favorable
Keeping those promises takes a lot of time.  And keeping your eye on the big picture. It's easy to get sucked back into old habits and begin marketing instead of connecting.  If you really want your social media efforts to work, you have to make a big investment.  No, it may not be money (unless you hire some help) but it's a time crunch.
Maybe this analogy will help.  When you do social media badly — you are basically enticing someone to come close to you with the promise of a gooey, fresh from the oven chocolate chip cookie and when they walk in and reach out their hand for the cookie — you smack them with a ruler, over and over until they leave.
The cost is huge.  The damage is real.  And too many businesses are stumbling over themselves as they rush to a "free" marketing opportunity.
So what does a small business do, Drew? you ask. (again, perhaps it all takes place in my head).  You put together a social media strategy that is built on SMART goals and best customer personas.
How do you do that?  Come back on Thursday and download the absolutely free 18 page e-book that walks you through how to build that strategy, step by step.
It's a tool we use at MMG with clients every day.  And we're glad to share it with you.  Really.
And….there's not a sales pitch or MMG promo in sight.  I promise.  Would I offer you a cookie and then smack you with a ruler?