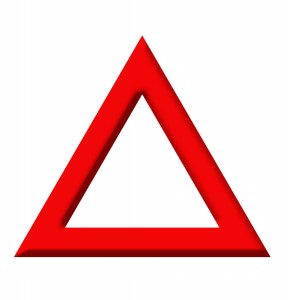 When you get a chance to talk to a prospect — you want to make sure you talk to them about what matters.  And if you're not well prepared…that usually doesn't happen.
Think back to when you were a teenager (or a pre-teen if you developed early) and were figuring out how to talk to that boy or girl you had a crush on.
Remember how your brain just fuzzed over when you got the chance and the next thing you knew, you were babbling something about how your cat was stuck in a tree, your grandma had a mustache and you didn't like pears?
The same phenomenon occurs when we begin to talk to someone new at a networking event or a prospect who just called/walked in the door.
Without a plan, we babble.
The solution is an easy one.  At McLellan Marketing Group, we call it your message hierarchy.  Here's fair warning — when I tell you how to do it, it is going to appear to be quite simple.  You might even think "seriously Drew, that's all you got?"
But I assure you, it's harder than it looks.  And it deserves some time and attention.
Assume you're at a networking event, and someone you've never met before approaches you.  They extend their hand and say — "Hi, I'm Bob.  Nice to meet you.  Tell me what you do for a living." (I know…no one sounds like that but play along)
Answer these questions in this order.
If you could only tell Bob ONE thing about your business (a single sentence) that you hope he'll remember forever and repeat often. What would you say?
If you discovered you had time for a second sentence, what would you add?
For some reason – you get a chance at adding a third sentence.  What's next.
Wow…Bob seems fascinated.  Add another sentence about your business.
You're on a roll!  Bob hasn't said a word…he's so mesmerized.  Add another sentence, quick.
You get the idea.  It's the first question that's the killer.  If you could only say ONE thing…and then had to walk away and that was all Bob was ever going to remember about your business — what would you say?
But once you figure that out — that's golden.  Now you know the key message you should always lead with.  It doesn't have to be the exact same sentence every time, but the message should be the same.
When you look at the answers to those 5 questions — you've build your message hierarchy.  Think of it as a triangle, widening with every sentence.  The most important point is at the top and then you add a layer underneath, over and over again.
Please give it a try.  It's tougher than it looks but it will help you stay on target no matter what marketing tool you're creating.
Photo courtesy of BigStockPhoto.com