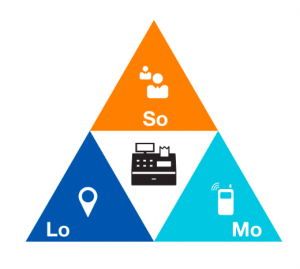 I know — it sounds like a line dance but it's actually a quickly emerging marketing trend that you need to have on your radar.
SoLoMo is the combination of social, location and mobile. It takes the form of mobile phone apps that combine social networking and location data.
The blend of these makes perfect sense. We know that social is working for local businesses. A business with 100+ fans are experiencing a much higher engagement and click-through rates.
20% of all searches has a local intent, and more and more of them are happening real time on a smart phone (I'm looking for a shoe repair place near me and I have the shoe in the car with me.)
In fact, 70% of all searches done on a smart phone result in action within one hour. (read that stat again if you think you don't need a mobile optimized website)
So people are using their phone to find what they need/want NOW. That's where SoLoMo fits in perfectly.
Probably the SoLoMo app that most people are familiar with is Foursquare. You have an app on your smart phone that uses its GPS capabilities to allow you to "check in" when you're at a specific location. Many people who don't foursquare will often say…why would I do that? What's in it for me to check in?
Beyond the ramification aspects (badges, mayorships etc) that Foursquare built into the app, there are often advantages that come through the merchant. For example this morning, I have a meeting at Gateway Market. When I checked in, I was greeted with a coupon for Gateway that I could redeem at that moment.
That's SoLoMo in action. Offering the user an immediate reward for being in a specific place.
Another example of SoLoMo would a smartphone app that determines your location, suggests businesses close by, and even provided ratings/reviews of that business. After going there, you could post your own ratings/reviews and photos on their system or places like Facebook or Yelp.
One of the coolest applications that I've seen adds a geofencing factor. Geofencing is the ability to draw a virtual perimeter around a specific area. There's a real estate company called DDR Corp that owns a ton of U.S. shopping centers and they're using this technology in 25+ open air malls.
Their program is called ValuText and here's how it works:
A shopper enters the mall's borders (geofencing) and if they've opted in, they'll receive text messages from specific stores about sales and promotions happening at that very moment.
Think of the win/win here.
The retailers love it because they can communicate with people who are literally a few steps away from their store.
The shoppers love it because they're being served up deals they can take advantage of instantly.
The mall must love it because I have to think occupancy isn't a problem when they're offering their merchants this kind of perk.
One of the nice features of this tool is that it doesn't even require that the user have a smartphone. By using text messages, it simplifies the technology requirements dramatically.  What could you do with technology like ValuText?
We're just scratching the surface of what's possible with SoLoMo.  I can remember watching the movie Minority Report and marveling at the mall scene, where Tom Cruise is being "detected" by advertising and it's changing based on his preferences.  At the time, it seemed like black magic.  Today, it's just SoLoMo at work.  (Granted in an advanced state)
Check out this :30 clip from the movie to see it in action. Listen for when the ads actually call out his name.  Incredible.  (Email subscribers — click here to view)
[youtube]http://www.youtube.com/watch?v=oBaiKsYUdvg[/youtube]
Want to learn more about SoLoMo?  Check out the SoLoMo manifesto by clicking here.  This is where were headed folks, so don't get caught off guard.
P.S.  Full disclosure:  I know the agency that created ValuText and was awed by it when they shared it with me.