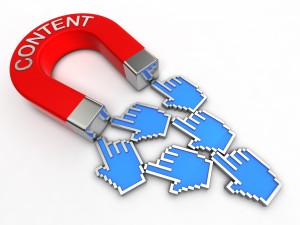 It seems like everyone is talking content marketing these days, like it's it hottest thing since sliced bread.
Of course, for many businesses — this is just a new name for something they've been practicing for eons.  They've been creating valuable newsletters or writing white papers for years.
Which does not mean that you're doing it as well as you could or should be.  Are you happy with the amount of people and the kinds of people your content marketing efforts are attracting?
Bigger question — how purposefully are you weaving a content marketing strategy into your overall efforts?
I'm betting your company is not harnessing the real power of content marketing because of one or more of these reasons:
It's something that happens every once in awhile but not on a regular basis.
You create some content but don't promote it well across all of your digital and analog channels.
You create content but you talk about yourself, your products etc. more than you should (you are selling, not teaching).
You produce some content but not in a format that is easily shared by your audience.
You do it in a silo, it's not woven into all your other marketing efforts.
You don't use an editorial calendar so your production schedule and topics are usually by the seat of your pants.
The visual presentation of your content is boring or worse — off-putting.
Recognize yourself in any of those issues?  This isn't all new stuff.  MMG has been around for almost 20 years and we've always preached the power of content marketing –even before we had a name for it.
But thanks to our universal access to the internet and our ability to easily share files, visuals, etc. — this marketing best practice has taken on a life of it's own.
If you're not doing more of this than ever before — I think you need to ask yourself why.  And what it is costing you.
How are you implementing a content marketing strategy for your business?