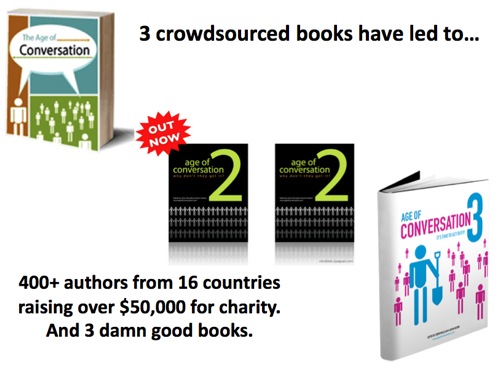 We know… it's crazy. But Gavin and I are ready to do it again. This time, we'd like Age of Conversation to take on a much more personal tone… how is social media impacting you, your work, your family and your view on life? Your chapter might be as elaborate as a real case study or it might be as simple as your best time saving trick. But it's about you and how you "do" social.
This time, we're doing both one and two page chapters. (see below)
Here are the sections for the book:
ONE PAGE CHAPTERS
One page chapters are grouped into "sections" to provide a sense of cohesion to the topics covered. (One page = 400 words or so) This year's sections are:
Secrets – what is a secret, what is your secret and what are the limits of privacy in the Age of Conversation?
Transparency – what does it mean for a business to be transparent? How do you go about making your brand or business transparent? And what happens if transparency fails?
Authenticity – what does it mean to humanize a brand? What happens when business gets personal and how does so-called "authenticity" impact you on a personal and professional level?
Unexpected Consequences – anything from a painful lesson learned to an unexpected cross the globe friendship. Share your journey in this Age of Conversation
How Do I … – share your tips and tricks on social media. What do you do well and how do you achieve the outcomes you want?
CASE STUDIES – TWO PAGE CHAPTERS
We'd love to have your case studies. (Two pages = 750 words or so) They need to be projects that you have worked on or have been responsible for. You must include measurable results of some sort. We're not going to get into the whole ROI discussion…but you need to show how it played out. Please don't propose case studies based on other people's work.
Want to join in on the adventure with us? We'd love to have you with us!
To sign up —  https://docs.google.com/spreadsheet/viewform?fromEmail=true&formkey=dGhydDdoTmVtZXFLT3V0YzY2ampDUlE6MQ
We'll be closing the sign ups pretty quickly so if you're serious about writing a chapter — sign up soon!