Are you talkable?
On this blog, we often explore the importance of brand and the power of word of mouth. It seems that many business owners/leaders believe that you can just plan on something being spread by word of mouth and voila, it happens. (Sort of like planning for a video to go viral).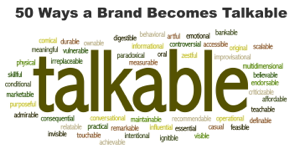 The reality is — to become a brand that is worthy of being talked about is hard work.
It's about being very purposeful in every little detail of your business.
That's why I love this video series by John Moore from Brand Autopsy.  John's listed a bunch of attributes (29 to date) of a talkable brand — like believable, measurable, and emotional to mention a few.  And he's done a video for each "able" that makes your brand talkable.
The videos are part education, part entertainment and part inspiration.  I think you'll enjoy the short (less than 4 minutes each) offerings.
Check out the series (click here) and then come back and tell me which of the "ables" you think your business has already mastered.