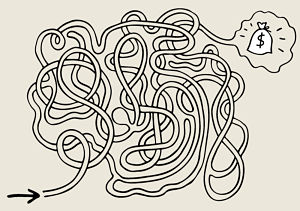 You know…sometimes we make things so much more complicated than they need to be.  Do you want to own or work for a company with longevity, a strong reputation and customers who are your best advertising?
Then follow this advice from The Little Blue Book of Advertising.  But I warn you…the simplicity of the advice is also what makes it so stinking difficult.
"Taking care of your brand (building it, managing it, protecting it, and yes, if necessary, reviving it) is the single most important job you've got. Whether you're the president of the company, the EVP of marketing, or the newest employee in the advertising agency's design department.
Your brand will last longer than any of your jobs. It's even likely to last longer than your company. So taking care of your brand is also a smart career move–if you take care of your brand, it'll take care of you. No one ever made the cover of Forbes magazine by getting a raise. But the covers and pages of the business press are filled with people who championed a great brand.
What's the easiest way to take care of your brand? Take care of your customer. Know who she is. What he wants. How she uses–and thinks about–your product, service, brand.
It's that simple. And that hard."