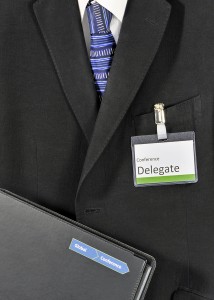 It seem intuitive to us that if we're heading to a trade show as an exhibitor we should be thoughtful about how to maximize that time and dollar investment. Yet somehow, when we're attending a show or conference as an attendee, we don't seem to give it the same consideration.
I suppose many people make the assumption that if you go to a conference and learn something – it's time and money well spent. That's certainly a good start, but if you're smart about it, you can get so much more out of your trip.
Location, location, location: Assuming the conference is not in your home town – take advantage of the change of venue. Is there a prospect you've been romancing from a distance that happens to be located within a reasonable distance from the event location? If so, fly in a day early or fly out late and schedule a face to face.
Create a hit list: Usually the conference will publish a list of attendees ahead of time, to entice others to join in. If they don't publish a list – do a Twitter search to see who is talking about the event. Once you've seen the list or at least a partial list – identify three to five people you absolutely want to meet and connect with.
Seek them out (not in a creepy stalker way) and be ready to engage them in a conversation. Your goal – to get to know them well enough that you can reach out to them after the show and stay connected.
Be a connector: Make it your goal to help one new person a day. That help might be introducing them to someone you know, it could be sharing a resource or as simple as inviting them to join you for lunch.
For many people, being at a conference (especially if you're alone) feels very isolated and even the most gregarious person can get a little shy. But if you're the one being helpful, that's takes a lot of the discomfort away.
High five the presenters: No matter how often someone speaks at a conference, it's still a bit of a nerve-wracking experience. Even if they're a superstar in their field, they still will appreciate a "way to go" or "I learned a lot from you." Want it to be even more sticky? Tweet the "atta boy" to them and then follow up with a question. Odds are, you just added someone cool to your network!
Pace yourself: Most conferences over-pack their events with speakers, socials, minglings and exhibit hall time. They want you to know that you're getting your money's worth. But no human being can go at that pace for several days in a row. Identify the two events each day that are "must see" and a couple more that are "would like to do's." Don't let the schedule over schedule you.
Schedule an extra day at the end: I know it sounds ridiculous. You've already been out of the office for several days. Why add an extra one? If you don't do your conference follow up (write blog posts, shoot off some emails, enter the business cards into your database with your notes, make some follow up calls and appointments) before you get caught up in the hustle and bustle of your regular work life – odds are, it will never get done.
If you aren't going to set yourself up for success and all you want is to learn something new – save your money and watch a webinar or two. But if you really want to make the most of your investment – grab a couple of these tips and hit the ground running.