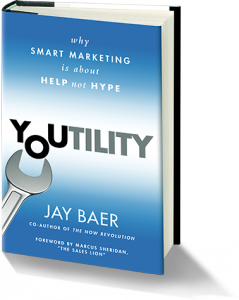 Let's look at the reality:
Fragmented media choices
Permission-based media on the rise
Ability to filter, skip, ignore irrelevant advertising
Nothing beats word of mouth
A jaded, cynical consumer
Consumers tuning out, taking over and talking loudly about brands
That mountain of challenges is what faces marketers every single day.  So how in the world do we earn their attention, their dollars and even tougher — their loyalty?
Author, consultant and tequila loving Jay Baer believes he has the answer and outlines it in his book Youtility: Why Smart Marketing is about Help Not Hype.*  (I have 9 copies to give away — read to the end to find out how you can win!)
Jay's premise is simple enough. If brands focus on being helpful, consumers will be drawn to them and when they're ready to buy, that brand will have already earned the consumer's trust — so they're more likely to also give you their money.
Jay calls this friend-of-mine awareness (as opposed to top of mind awareness) and argues that in a congested, time starved world – if you want to keep earning market share, you need this level of connection with both customers and prospects.
The book is packed with stories, examples and very pragmatic ideas that any business — big, small, consumer or business focused — can implement.  It's one of my favorites for 2013 — and a book you should definitely read. (Click here to order it from Amazon*)
I asked Jay a few questions about the book.  Here's what he had to say:
If you had to describe the content of your book in a single sentence (no run ons) what would it be?  
If you sell something, you make a customer today. If you help someone, you can create a customer for life. 
What one book that you've read do you wish you could claim as your own?
Different: Escaping the Competitive Herd by YoungMe Moon, and anything by Bill Bryson.
In your opinion, what is the one trait that all uber successful business people possess?
A true understanding of customer needs.
What's the biggest business mistake you've ever made and what did you learn from it?
I botched a 1031 real estate exchange eight years ago, costing myself a ton of money. I learned to trust experts that you hire, but always follow up.
Why did you have to write this book?  What truth or insight was missing from the human consciousness — that you've now answered?
2 reasons. I wrote their book as a reaction to the landslide of punditry that prescribes "make your company amazing" as a strategic approach. Also, I wanted to give people a thoughtful scaffolding for why and how they should be creating content.
After someone is done reading your book — what do you hope they do as a result?
First, begin to understand how your company can insert itself gracefully into the lives of customers and prospects by being useful. Second (or maybe first), tell 3 friends to buy the book! 
Okay — the book is awesome and you should read it.  And 9 of you will get to read it for free.  Winning a copy is simple.  Leave a comment on this post and I'll use the randomizer at random.org to pick the lucky readers!
*affiliate link