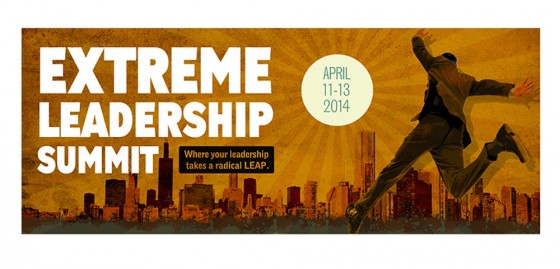 I like to pass along people, ideas and events I think you'll find valuable.
My friend, Steve Farber, is a world-renowned leadership expert. He consults with global 100 brands. His book The Radical LEAP has been named one of the 100 best business books of all time and if you've been reading this blog for a while — you know that in my opinion, it's one of the three most brilliant business books I've ever read.
To announce the Extreme Leadership Summit, coming April 11-13 in Chicago, Steve is offering an MP3 audio download of his popular program, Extreme Leadership: How to Put More Love, Energy, Audacity, and Proof into Your Work. The DVD of this 2-hour speech sells for $90, but Steve is offering this audio to my friends for free.
Yeah, he's a pretty cool guy. I'm confident you'll resonate with Steve's call to take a LEAP in your life at work and at home – this is, to practice Extreme Leadership through Love, Energy, Audacity and Proof.
You'll learn how to:
Cultivate more love in, and for, your business
Generate energy for a more productive career
Develop more courage to change your world
Prove your value and credibility to others – and yourself
Lead in an extreme manner that gets big results
Not only is Steve's program packed with great content, his delivery is entertaining, provocative, and funny.
Click here and opt-in to receive the MP3 file. You'll find Steve great company on your commute, your next flight, or during your treadmill tribulations.
Steve delivers high value in everything he does, so I'm confident this is a relationship you'll appreciate and cultivate.
Consider it a holiday gift from Steve and me to you. To your success in 2014!