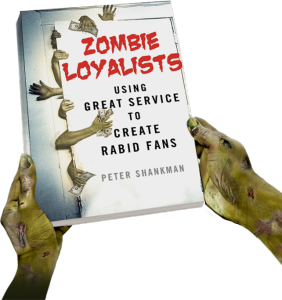 Marketing and PR guy Peter Shankman just releases a new book (Zombie Loyalists) that is on a topic that is near and dear to all of us at McLellan Marketing Group.  Given that our tagline is "create a love affair with your customer" the idea of having rabid fans who are a marketing tsunami is clearly one we endorse.
Peter's book drives home the point with this alarming statistic combination: 80% of companies think they provide superior customer service, and 8% of customers agree.
What that should mean to you is — you can crush your competition if you get this right. (Learn how you can win a copy at the end of this post)
As I've said before — I only recommend books that are short on philosophy and high on practical, actionable information.  Peter's book will show you what's possible AND show you how he recommends you make it happen.
It's an easy, entertaining read that will have you jotting down ideas and notes as you read it.  I definitely recommend you pick it up.
Here's what some others had to say about the book:
"Marketing and PR expert Shankman offers a hilarious, astute, and ultimately practical guide to creating customers so satisfied they'll promote your company with zombie-like fervor…this entertaining yet valuable work is a must-read for any business owner or executive interested in turning satisfied customers into avid brand ambassadors."
—Publishers Weekly
"At the end of the day, all business comes down to customer service. If you want to win in the new customer-centric economy, check this book out."
—Gary Vaynerchuk, best-selling author, The Thank You Economy
"If anyone in any organization can't figure out how to create loyal customers after reading this book, then their brains have obviously already been eaten by meat-eating zombies." 
—Debbie Moren, CEO, Moren Enterprises and Former Disney Customer Service Leader
"Over the years, Peter has created his own Zombie Loyalists, and I count myself as one! Now he is taking you and your business to new levels with his surefire strategies. The world around us has changed, and business must change with it. Your customers are key!"
—Frank Eliason, Author of @YourService
How you can win a copy of the book: Peter generously sent me three extra copies of the book to give away.  To be eligible — simply leave a comment, telling me about a company that has turned you into a Zombie Loyalist and how they did that.
I'll use random.org to select the winners and announce them here.