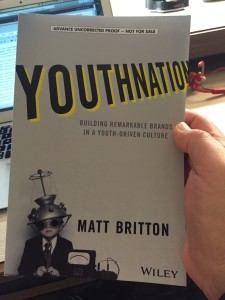 I just finished a new book, YouthNation: Building Remarkable Brands in a Youth-Driven Culture, (click to buy on Amazon – affiliate link) by Matt Britton and found myself nodding, sighing and scribbling notes throughout the read.
You know me…. I like books that give me tangible actionable insights and this book is packed with them.
If you'd like to win a copy — read down to the final paragraph.
Our nation's youth has collectively transformed from a fringe counter-culture to THE culture of our nation. In doing so youth has become the preeminent driver of all markets, trends, and disruptions, which are rapidly evolving the American business landscape.
This is the new status quo, and youth marketing expert Matt Britton calls it YouthNation.
In YouthNation: Building Remarkable Brands in a Youth-Driven Culture, Britton explains how we got here, where we are headed, and why youth has now become a commodity that's available to everyone. This commodity transcends industries and demographics, and is the new and unstoppable force behind all innovation and global competitive advantage.
Businesses that want to compete in YouthNation need to understand the technologies and movements sweeping our land. Traditional models no longer apply amidst a new world where revolutions can ignite and enterprises can be created by anyone with an iPhone.
YouthNation provides readers with a playbook that will enable them to survive and thrive in these ever-changing times. Covering all the essential topics of 21st century brand building, this book introduces readers to the power of big data, consumer advocacy, crowdsourcing, the experience economy, content marketing, the peer-to-peer economy, and more. By ommanding these change agents, readers will be able to navigate the complex roadmap of YouthNation to success.
I'm nor sure how you can be involved in marketing today without understanding this phenomenon. The book is a great start.
Matt has graciously given me 3 copies of his new book to give away.  To qualify for my randomizer drawing, just leave a comment below.