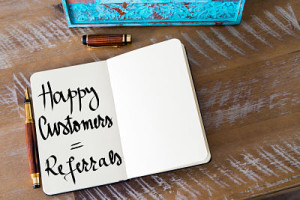 Referrals don't happen by accident. When I talk to some small business owners they proudly tell me that most of their new customers come to them via referrals. And I congratulate them – there's no better marketing than having a customer rave about your work.
But relying on your customers to decide that they're going to actively recruit new clients for you is probably not a brilliant marketing plan.
Think of a product or service that you really like and use regularly. Okay – now, how many people did you talk to today about that product or service? How about yesterday?
For our example, let's pretend this product/service that you love is your barber. It's not that you don't love him. But you have other things going on in your world. So unless someone mentions they're looking for a new barber or compliments your hair, odds are, you aren't going to mention your barber. Even though you are a raving fan.
Your clients are the same way. They may love what you do but most days, they're not thinking about you or telling other people about you. So does that mean growing your business by referrals is a bad thing? No – it just means you can't leave it to fate or your customer's undying love. You have to give referrals a helping hand.
Want to figure out how to boost referrals, try one (or more) of these ideas:
Throw an exclusive party: Create an event that your best customers would love to attend. Not like – but love. I'm talking take a day off work to go if they had to kind of love. Send them an invitation and explain that it's an exclusive event – that only your best customers are being invited. But, as a special thank you for their business – they can invite one guest. The only caveat is the guest cannot be a current customer.
Promise them that they'll be no sales pitch or selling. You just want to meet more people like them and you want them to be able to share this cool event with someone. Now, you've got a buzz worthy event which will generate its own word of mouth marketing and your best customers are walking prospects right to your door.
Love them: At MMG, many years ago we created our own holiday called Who Loves Ya Baby Day. (A hat tip to Telly Savalas in his Kojak days). On that day, which happens to be Valentine's Day – we shower our clients with love. We let them know how much we value them and their trust in us. We create a special card to thank them and literally to say that we love them. Because we do.
In your own way – you need to let your customers know that they're more than a buck in the cash register to you. Create something that overtly expresses your affection for them in a way that they can't help but talk about.
Be shareable smart: Everyone wants to be helpful and be perceived as being on top of their game. Become a reliable resource of useful insights and information for your customers. Send them tools (e-newsletter, infographics, tip sheets, etc.) that they can and will pass along to their peers because of their value. Then, without even meaning to, they're referring people to you with each share.
Which, of course, means what you send them has to be truly valuable, not self-serving. No one is going to pass along your sales flier or promotional materials. The added advantage of this tactic is not only do you get the referral but your content also reinforces the message that you really know your stuff.
Referrals are an incredibly valuable way to grow your business. But even your biggest fans need a little nudge.