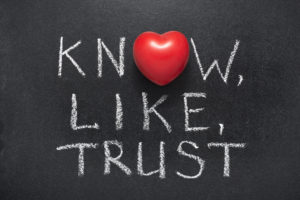 Over the past couple weeks, we've explored how your website should be thought of as a selling tool and with some planning and vision – you can use it to move a prospect through the know • like • trust = sales funnel and earn their business.
Last week we dug into the top of the sales funnel and identified some ways you can capture the attention of your drive by web visitors with the hope that they get to know you a little and find you helpful.
This week, I thought we'd talk about that middle section of the funnel that corresponds with the like element of our equation. To move someone from the start of the process into this section requires a mix of bravery and generosity on your part.
Keep in mind that most prospects are pretty skittish. Whether it's in a retail store or online, they're used to being chased around by over-eager salespeople that pester the poor potential buyer until they flee. That's one of the reasons many people do a significant amount of their shopping online. The anonymity allows them to browse without pressure.
That's why you want to load up your website with lots of content that has no barrier to consumption like blog posts, testimonials, and FAQs. Those elements will generate traffic to your site. The strategies we talked about last week – where there is an exchange of information (their email address for some downloadable tool or content) begins to thin the herd. The tire kickers will avoid the opt-in level, preferring to stick with your free content. And that's fine. Until they move to the next level, they're not ready to buy. Once they trade you their email address for some content, they've indicated that they are open to hearing from you.
I find it hard to believe I have to actually say this but I've seen time and time again that I do. There is absolutely no reason to collect email addresses if you aren't going to actually send them something.
And that something cannot be a sales pitch. I've seen so many businesses stumble here. They didn't give you their email address so you could hard sell them or immediately try to get an appointment or schedule a sales call. They gave it to you so you would keep sending them information that's valuable to them.
That is your litmus test. Each and every time, before you hit send, ask yourself "is this going to be valuable to my audience?" Time for a re-write if your honest answer is no.
Assuming you keep producing helpful content and you actually send it out consistently – the prospects will let you stay in their in box. Week (or month or quarter) after week, you're there. You're teaching, helping and they are getting a little smarter and a little more comfortable with you each time they hear from you.
You should also use those regular emails (or however you decide to connect with them) to drive them back to new content/offerings on the website. Maybe you produced a demo video series or you're hosting an educational event that you'd like them to register for.
While we are focusing on your website, it certainly shouldn't be the only tool in your toolbox. Your sales funnel should be armed with both digital and traditional tactics. They work together hand in glove, each strengthening the other.
The days of your website just being an online brochure are long gone. Be sure your web presence is the sales workhorse it should be by building a sales funnel around the know • like • trust = sales equation.