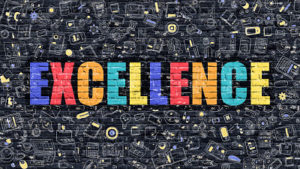 I've never met a business owner or leader who didn't want the employees of their organization to deliver excellence. And the truth is – most employees want that too. They want to work for an organization that allows and even encourages them to go above and beyond for the people they serve.
Sadly, most employers believe that as long as they have this genuine desire and their employees share in it — they're all set. But excellence doesn't happen by accident.
The best companies in the world – the ones who get kudos for the customer experience every day like Disney, Southwest Airlines and Zappos, all invest heavily in training because they know that the true strength of their company's brand rests on the shared values and common behaviors of their leadership and staff.
Zappos puts every newly hired employee through an intensive four-week training program that goes beyond orientation and also covers brand values, strategy and culture. One week in, Zappos makes what they call "The Offer," a $1,000 bonus to any employee that will quit on the spot. The goal is to identify those who don't embrace the brand and make sure they never get to talk to a customer.
Disney starts every new cast member, regardless of their job title, in a three-day class called Traditions. A housekeeper might be sitting next to a VP of operations or the next Cinderella. Together they learn all about the values, history and traditions of Disney. They are taught that every guest at the park is expecting something magical to happen, and it is their job, no matter what their actual job is, to make that happen.  After that training, and only after it has been completed, every cast member learns his or her actual job.
Disney cast members all learn and live by The Disney Cast Member Promise:
I project a positive image and energy
I am courteous and respectful to all Guests, including children
I stay in character and play the part
I go above and beyond
That promise and how the cast members honor it didn't happen by accident. It was carefully crafted and even more carefully and consistently trained.
So how about you and your company? Do you invest in training your people? Do you have a way to discover and share your core values and how you want those values translated into behaviors?
You need to figure out what your core values are and how you're going to teach/translate them to your team. And guess what – teaching them once isn't enough. You need to weave those values into their daily experience as an employee so they're surrounded and immersed in them.
Do you have a plan for getting that done?