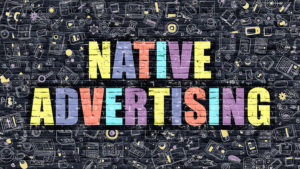 One of the things I both love and hate about the marketing industry is the constant quest for creating the hot new thing. Sometimes, there really is something that is so new and innovative, like the topic for last week's column – retargeting – that it can legitimately make the claim "hot new thing."
But there are other times when the hot new thing is really more of an updated or revised thing. That's my take on this whole "native advertising" hype that is surging through marketing circles right now.
Native advertising is paid advertising that is camouflaged in some way to look like it's just helpful content or natively belongs in the setting that it's placed in. It's usually clearly marked in some way, but the whole goal is for it to be less "ad like" so the audience will not ignore it.
I know the definition itself is as clear as mud, so let me give you a couple examples. The advertorial is a form of native advertising. An advertorial looks like editorial content but is actually an ad that a company bought. Many "special sections" of a newspaper or magazine are in truth, advertorials. But because they are written and designed to look like a story rather than an ad – they are hiding in plain view.
Another example of native advertising is product placement. Watch a couple hours of HGTV on Saturday morning and you will begin to spot all the different products being used. When you see a label or the host mentions a product by name, odds are very good that someone paid good money (or donated product) for that.
I'm not suggesting that native advertising isn't a good idea. It can be a great way to expose an audience to your offerings. What I am saying is that you shouldn't believe all the hype about it being something new.
What is "newish" bout native advertising are the digital options. For example, you can now marry online ads to relevant online content. Have you noticed that at the bottom of many online news stories you can find a "what's trending now" area with links to other, related stories? If you click on one of those stories, what you'll often discover is that you've been taken to a landing page that is selling a product that is tangentially connected to the topic of the first story.
Another way you can digitally go native is to pay someone to publish your content or write content for you and build calls to action within that content. You can drive traffic to your website, a product page, an event or whatever you'd like. Many times this sort of purchased content is appearing in online magazines and authoritative websites on specific topics. These native ad articles are usually marked with the word sponsored to indicate that they were paid for. But they look just like the rest of the "pure" content on the site. Another advantage to you, the advertiser, is the SEO value of the backlinks.
Native ads within videos is a very popular option right now as well. You can run your ads on YouTube videos that contain relevant content. You can also produce a video and like the sponsored story on a website, you can actually embed your ads right into the video itself. You can just create brand awareness or you can actually have calls to action within your message.
Native advertising begins with content. Whether the content is created by the brand, by the publisher for compensation or the ads is just aligning itself with topically relevant content – the goal is look and feel more editorial to avoid the audience's aversion to traditionally intrusive ads.
There's nothing new about that idea.