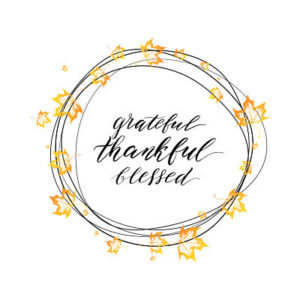 It's easy to get caught up in the metrics, goals, sales projections, and all the other things we measure in business. But as Thanksgiving approaches, I want to suggest that the best parts of being in business can't be measured in dollars, percentages or increases but by your good fortune.
I don't know about you, but by this time of year, I'm getting a little tired. I've been going full throttle ever since the holidays wound down last year and I've been chasing some pretty aggressive goals. This coming week is the perfect time to slow down and genuinely be grateful for our good fortune. Why not take advantage of the slower pace of Thanksgiving week and actually say thank you to those who make your work meaningful and successful.
Your employees: Let's be honest – your employees are awesome, aren't they? They care about your customers, they care about your business and they care about you. They work hard and your bottom line benefits from their efforts.
If you have a small staff, take the time to handwrite them a thank you note. Point out the things they do that make such a difference and let them know you appreciate all they do.
If your team is too big for that, gather them together and tell them how much you appreciate them. If you have multiple locations – why not shoot a video? It doesn't have to be fancy — you can do it on your computer or phone. But make it personal.
Your clients: What if you spent a couple of hours this coming week and called all of your customers just to say thank you. Don't try to sell them anything or talk about 2017. Just say thank you. But be specific – tell them why they're such a wonderful client and why you appreciate them so much.
Encourage your employees to do the same thing with the customers that they serve.
Your vendors: You know who I'm talking about – the ones who bust a hump when your client shortens their deadline or wants to double their order but not the time it takes to get it done.
Let them know that you value their skills, commitment to your customers and willingness to bend over backward to help you over deliver. If there's a sales rep or front line person who is always going out of their way for you – why not pick up the phone or write a note to their boss? Express your gratitude for their employee and make sure they know just how lucky they are to have them.
Your past customers: Even if they haven't done business with you in a while, why not drop them a note to thank them for their past business? Tell them how much you appreciate the faith they had in you and the opportunity they gave you. Again, this isn't a sales gimmick and you're not trying to win them back. Just acknowledge that you enjoyed working with them, are grateful for the chance and wish them well.
In keeping with this blog post's theme, I want to thank all of you for reading my blog content. Your emails, calls, notes and kind words make my day. I love it when you disagree, agree or just ask a question. I'm very grateful for our on-going conversation about marketing and all things business.
The magic of this week of giving thanks is that the more gratitude you express, the better you feel. You'll be reminded again and again of your good fortune and that's the perfect way to wind down this year and gear up for even more blessings in the year to come.