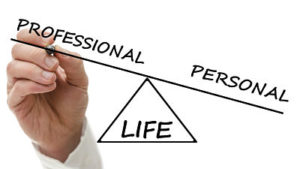 One of the downsides of our digitally driven lives is that the dotted line is no more. What I mean by that is that you used to be able to artificially draw a dotted line in between your personal life and your professional life and to a great extent, you could control whether something would cross from one side to the other.   Not anymore.  Personal equals professional.
That dotted line was probably never as real or protective as we thought it was, but in today's world, it no longer exists.
I just read a friend's Facebook status and he said something to the effect of "I don't like to blend my personal Facebook account with business, but we're hosting a workshop that I am really proud of — so I'd like to invite all of you."
This guy owns the company that is putting on the workshop. So in theory, his personal Facebook friends all know what he does for a living and some of them are probably even clients. But most of them are probably not fans of his official company page on Facebook. If he'd only announced it there, most of his Facebook connections would have missed it entirely.
And no one is going to unfriend him for mentioning his work alter ego on a site that some might deem for personal use only.
The truth is – there is no "personal use only" anymore. I actually think that's better – don't you want to know who you're doing business with? Don't you actually work better with someone when you know that they love rescue dogs, take an annual trip to the Tetons and hate the Yankees?
By the way, talking about your work/business is different from constantly hawking one's wares. You shouldn't be doing that at all – but especially not where people expect you to be social.
But the time of hiding your personal side from your professional side and visa versa is over. You aren't two separate people and what you do outside of work and what you believe actually influences the work you do.
In fact, your personal brand – what you are all about, stand for, believe in, etc. is part of your professional brand. Personal equals professional.  And just like a company's brand should inform and influence consumers – so should your personal one.
Regardless of which side of the Chick-fil-A fence you landed on, when the CEO, Dan Kathy, came out and talked about his personal beliefs and where he invests his company's charitable dollars, I'm betting you suddenly had an opinion about that business. Even if you'd never eaten there before.
Did they lose customers over the controversy? Absolutely. But did they gain brand zealots who now go out of their way to support Chick-fil-A and spend even more money there? Absolutely.
The goal of branding is to locate your sweet spot customers. Those who are best aligned with you. Who you are – as a company, an employee of a company, and as a person can all help in that endeavor.
I'm not suggesting you can't or shouldn't have a private life that is actually private. But if you don't want your prospective customers knowing your stance on a political issue, a family situation you're facing or take offense at your secret love of all things Hello Kitty – then never, ever post about it online. Anywhere.
But stop artificially separating the two halves of you. It was probably never a good idea but in today's world, it's not only impossible but it feels very inauthentic. People want to do business with people they know, like and trust and that isn't just about 50% of you.
Whether you are a geek freak, a Greek freak or a chic freak – let your flag fly and let it draw like-minded people to you and your business.