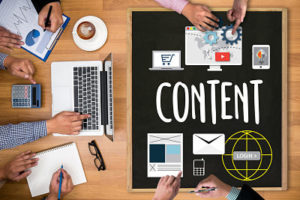 Pick up any business magazine, read a marketing blog or attend a conference and you're going to get the message that you must have a content strategy.  Truth be told – this is nothing new. There's always been a marketing strategy that emphasized the production of helpful tools/information that taught prospects something of value to earn their trust and a thought leadership position.
What is "new" today is that every company has the capacity to be a publisher and information portal via their own website, blog, social networking pages etc. It used to be difficult and expensive to do and today, it's neither.
In fact, most companies already have the distribution channels (Facebook page, Twitter account, website, e-newsletter, etc.) in place.  They just do a lousy job of using the tools at hand. For most businesses, these channels don't get very much attention and they either languish from lack of relevant content or even worse, they become a brag book for their own accomplishments, awards, clients won, etc.  They're either dormant or so narcissistic that no one pays any attention and really, who can blame them?
Before you can determine what kind of team or structure you'd need internally, you need to decide if you should even be creating content (my bias is yes, but it's still a discussion that needs to be held) and if so – why?  What are the business outcomes that are driving the decision?  When done well, content marketing can drive qualified leads, shorten the sales cycle, generate new and repeat sales, reinforce a current client's buying decision and create PR opportunities, just to name a few outcomes.
Once you're clear about what you're trying to accomplish, you need to identify your audience for this effort.
To get that answer, you need to look to your company's personas and if you don't have any – create them. Personas are a powerful tool that helps drive every aspect of a marketing effort, from tone of voice to media to message.
When it comes to creating content with the goal of attracting your best prospects – it only stands to reason that you'd want a very detailed picture of who those prospects are.  One of the reasons most companies blather on about themselves on their blog or social networks is because they have no idea who they're talking to. Once they get their personas very clear in their minds – planning the content becomes simple. And it's rarely narcissistic again.
Now that you've identified why you're implementing a content marketing program and who you're targeting, the next step is to build your hub or the center of all of your efforts. This hub is the mother ship – where all efforts lead back to and it should reside on a platform that the company has 100% control over.  That means it is not Pinterest, Facebook, LinkedIn or any other 3rd party owned site. It needs to exist on your own website or blog. It should be the container in which all of your original content is stored and offered up to visitors.
After the hub is established, the spokes can be added.  A spoke is any activity or effort that drives people back to the hub for some reason. These will include both on and offline activities ranging from speaking at the Rotary meeting to offering your free ebook from your Facebook or Twitter platform.
Many companies start off strong.  Enthusiasm is high and everyone's ready to contribute.  But as client work piles on, it's easy to dismiss your internal efforts as optional.  Deadlines start being overlooked and before you know it, you have cobwebs.
But there's a cure and we'll dig into how to effectively create and maintain content flow next week.