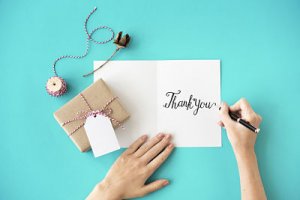 I believe that gratitude is a brilliant marketing strategy. I'm astonished at how many businesses give their customers the distinct impression that they're a little put out by having to sell them something.
You've felt it – the grocery clerk who is too busy chatting to actually make eye contact. The phone rep that can't wait to get off the phone. The sales pro that doesn't return your calls, even though you've told him you're ready to buy.
It's annoying and hardly breeds customer loyalty. But gratitude isn't just for customers. I believe the smart business owner creates a continuous chain of gratitude and not only is it genuine, but it yields incredible benefits.
Here's how the chain gets constructed. First – you demonstrate your gratitude to your employees. You then give them the tools to extend that same gratitude to your vendors and clients. Then, you invite your vendors and clients to recognize your employees for serving them well.
See how it goes full circle? When you cultivate and encourage the cycle, it just picks up steam and gets stronger and stronger. It's like a snowball that keeps growing and accelerating as it speeds down the hill. Pretty soon, it's been woven into your culture and becomes part of your reputation. That's a pretty powerful brand attribute.
So how do you make it happen? You develop tools for each group of people in the cycle. Let's start with the employees.
The good news is that this isn't about more money. It's about recognition and appreciation. Everyone wants to be noticed for doing a good job. You start by defining what "a good job" looks like. Be very clear in your own mind what character traits you want on your team. Interview for those soft skills and attitudes.
After you hire the right kind of people – train them well. Don't just train them to be good at their job, train them to be grateful for the clients who bring the opportunities to your company. Help them understand how each client contributes to the bottom line.
Now – start catching them doing things right. This cannot be left to chance or it won't get done. Create a peer recognition program, where employees can thank each other for going above and beyond. Read the nominations at an all staff meeting or share them on your intranet. Find a way to publicize the kudos they received. Personally stop by their office (or call them if they're not local) and thank them for making a difference.
What's the business rationale for this effort? A study of over 1,700 employees conducted by the American Psychological Association (APA) indicated that more than half of all employees intended to search for new jobs because they felt underappreciated and undervalued. Further research on gratitude and appreciation documents that when employees feel valued, they have high job satisfaction, will work longer hours, build supportive relationships with co-workers and supervisors, and are happy to help the company achieve its goals.
On top of all that – they aren't looking for other jobs. I don't know about your industry but in my world it's getting tougher and tougher to find qualified employees. So we want to keep the good ones that we have.
Beyond the employee peer recognition, there are other things you can do. On your employees' anniversary with your company, why not acknowledge their contributions and how it's impacted the company? Or send a note home, telling his/her family how they contribute to your organization.
Celebrate your employees and their wins. Be thoughtful, be personal and be sincere. But most of all – be genuinely grateful.
Next week, we'll wrap up the cycle of gratitude by talking about how you can cultivate that among your vendors and customers.