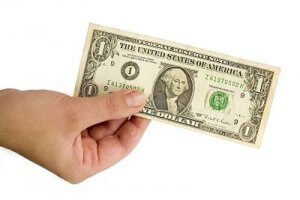 If every dollar looks the same, how do you know which dollars are "good" dollars for your business? The reality is – every dollar is not created equal and doesn't serve your business in the same way. In fact, some dollars actually cost you money.
Let's say prospect #1 wants to buy something you don't do very often and so you're not as efficient at it as you are in other areas. On top of that, they're in an industry that you don't know very well. Earning that dollar is going to be slow and painful with a longer, larger ramp up time.
Even if you see that they have a big pile of dollars waiting to be spent – you might very well never get a chance to earn those extra dollars because you're probably not going to delight them right out of the gate.
On the flip side, prospect #2 is in an industry that you know like the back of your hand. You know their jargon and quirks. On top of that, they want to buy the product or service that you sell day in and day out. You know exactly how to deliver on their need and you know they're going to be elated at the results.
Each prospect has the same dollar. But the path you're going to take to earn each dollar is very different, in terms of your enjoyment, their satisfaction and your potential profitability.
Logic tells us that we should:
Specialize in terms of whom we serve and what we offer, based on what we're best at. We can't know whom to serve until we know who we are.
We should have a clear picture of who our sweet spot clients are, based on who we are and only go after those prospects
We should discriminate – rewarding our sweet spot prospects for coming a little closer and making if more difficult for the not so right fit prospects to find/hire us
We should identify what we do best and not try to be everything to everybody. Saying no is a good thing. Having strategic partners is even better.
Logic may tell us all of that and yet – for many business leaders, sales team leaders and business owners – we can't get past the fact that there's a dollar on the table. We want the dollar.
Here's the truth of the matter. I'm betting that right now you have a customer or two that you are literally paying for the privilege of doing work for them. That's right — they are so unprofitable, because they're the wrong fit, that you are losing money every day that you keep them as a client.
Their fees or purchases help with cash flow. It's money in the door every month. That reality can often mask the truth underneath. You are losing money on that work. Many business owners are surprised when they crunch the numbers and realize one of their largest clients is actually one of their most unprofitable clients.
Before you go out and start pursuing new clients – I want you to evaluate the ones you already have. Crunch the numbers to see if you're actually making money and rank your clients in terms of profitability. I bet there's a surprise or two waiting for you.
Once you know which dollars are good dollars for your organization, it will help you target who your next customers should and should not be. Then pursue the right ones with a vengeance, knowing that each one you catch will make your business stronger and in a better position to say no to the bad dollars.