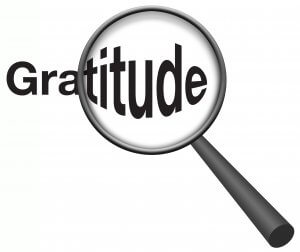 Last week we explored the idea of how smart businesses recognize that gratitude isn't just a worthy emotion – it's smart marketing. Everyone wants to be appreciated and today, when businesses must compete for both customers and employees, it's an important retention tool. We covered how to create a spirit of gratitude inside your organization last week. But how do you expand that out to your vendors and customers as well? Gratitude magnified.
The sad fact is this. You don't have to do much to get noticed. Your vendors and customers are so used to not being appreciated, you'll completely catch them off guard by showing a little appreciation. Much like with your internal team, this isn't about how expensive it is, it's about how genuine it is.
Let's start with your vendors. Here are a few ways to let them know how much you appreciate their efforts.
Put the spotlight on them. All too often, our vendors remain in the shadows – quietly helping us serve our clients. But a memorable way to say thank you is to shine the spotlight on them. Of course, they should be asking you for a written testimonial but like most businesses, they're too busy and it never rises to the top of the To-Do list. Proactively write a letter that specifically states why you value working with them and how they help you and your business.
Put it on letterhead and send them a hard copy for their own use. But don't stop there. Take snippets of your glowing praise and post it on their Facebook page or tweet about their efforts.
Another way to get them some well-deserved attention is to actively connect them to other potential customers or referral sources. No doubt you know and work with other people they should meet. You can introduce them informally, make LinkedIn connections or better yet – why not throw a referral party and invite all of your vendors to come and meet each other. Odds are – they're going to make some great connections and remember just who made it happen. That's gratitude magnified.
For your customers, a more personal touch might be in order. Sure – you can do the holiday card or gift or even hold a client appreciation event. But I believe the more personal you make it, the more meaningful it is.
I've written about it before, but there's something magical about a handwritten note. Think of it as your love letter to your customer. Let them know why you value their loyalty and trust. Share with them how they make your job easier, more fun or more exciting. Don't type it – no matter how awful your handwriting is. It doesn't have to be super long but it should be very specific. A generic thank you feels like you sent everyone the same note.
A variation on this would be to help your client experience something important to them at a whole new level. Maybe they've always wanted to learn how to bake or they love live theatre or professional hockey. Use your connections to get them behind the scenes at a local bakery for a one-on-one lesson or see if you can score them backstage access after a play or game. The key to this strategy is to go beyond just buying them something. It's the extra effort that really says thank you. That's gratitude magnified.
Just a final warning – all of your efforts get drastically watered down if you attach any sort of ask or payback to your act of gratitude. This isn't the time to ask for more business or a referral. Just be grateful and then be quiet.
I think you'll be surprised at what you hear in return.