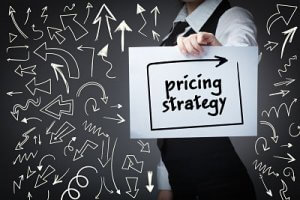 Last week, we explored some of the key considerations that a business should take into account as they set their prices. But this week, I want to take a look at what your pricing strategy says about your offerings.
I believe that pricing is a part of positioning and branding that is often overlooked. How you think about pricing may depend on whether or not you're introducing a new product or service or just rethinking how an existing product or service is brought to market.
Here are some of the most common pricing strategies and what they say about your brand:
Penetration pricing is typically an entry strategy. This is usually used when you're bringing something new to an existing marketplace or you're trying to lure people from an existing provider. Think of the types of offers that DISH and Direct offer to get you to switch. This kind of pricing can't be profitably sustained.
What does it say about you? It says that you are willing to buy your customers and that you're confident that if they give you a try, they'll stick around long enough to be profitable. Or it says that they know switching is a big pain, so they need to make it worth your while, hoping you won't decide to go through the pain again and switch back.
Premium pricing is exactly what it suggests — your product or service is at the high end of the range.
What does it say about you? When you have premium prices, it implies a level of quality and service that the lower priced options can't match. There's also an exclusivity to your offer if there are plenty of lower priced options available. To maintain this brand position, you'll need to work hard to meet your customer's high expectations.
Economy pricing is being the bargain in the bunch. Think Wal-Mart or generic products. If you can buy and sell in volume, this might be a decent option to consider.
What does it say about you? Depending on how you position it, it can either say you are very committed to helping your customers save money or the items you sell are of low quality. To reassure your customers that you're watching their pennies, you'll want to make sure you explain how you can offer such bargains.
Bundling pricing is when you combine items you sell at a special price. It might be a 99 cent dessert with dinner or send one person to a workshop and you get the pre-workshop session for free or at a discounted price. You just need to be careful you don't give away the farm with this strategy. It's ideal for recurring revenue where the profits rise after the first couple months of sales.
What does it say about you? This is a great strategy for businesses with long-term customers that might be in the market to buy even more from you. You can bundle complimentary items to tie that customer even tighter to your organization. That gives you more time to sell them even more.
Bracket pricing is the idea of always offering three different options, with the middle priced option being the one you want your customer to select. Research shows that if you offer only one choice – people object to the price. If you offer two choices, the buyer will choose the lower priced option most of the time. But if you offer three price points, the vast majority of buyers will choose the middle option.
What does it say about you? This pricing strategy is all about giving your customers control and choices. By letting them decide which bells and whistles they want, they feel like you're not trying to force them in a particular direction.
As you can see, there's a lot more to the underlying messages that come from how you set your prices.