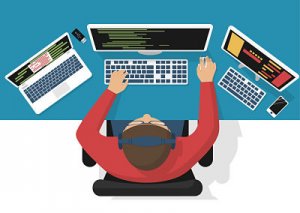 Whether you own your own business, run someone else's, are responsible for an entire department or just have to pack 60 hours of work into a 40ish hour work week – I feel your pain.  Don't you wish there was a hack for that?
No matter what industry you're in, my guess is that your workday is a little like mine. There's never enough time and no matter how carefully you plan – unexpected fires end up dominating your day. Combine that reality with the pressures of demonstrating ROI faster and probably with fewer people and a stagnant budget; it is even more daunting.
But that's not even the greatest source of pressure. I've been in business for almost 30 years and the pace of change just keeps getting faster and more disruptive. We're moving so fast that I don't even think we realize how dramatic the change is. Facebook has only been around since 2006. The first iPhone made its debut in 2007. Forget all of the other changes we've experienced. How have just those two introductions influenced your work and your life?
And guess what – it's only going to get more disruptive and faster.
Let's review. You're doing more. You're being interrupted more. You're expected to deliver more ROI and faster, please. Oh yeah, and the world is spinning faster and faster while you try to do all of that.
If you want to have any chance of winning the game, you need to change the rules. I know I've had to do that to juggle running a couple of companies, serving 100 clients and producing as much content as I need to do. Here are some ways to hack your work day that help me and my team make it all happen.
Claim YOUR day: One of the best changes that have come with this work evolution is the recognition that there is no such thing as 9-5, and everyone has an optimal work window. At MMG, we have people who start at 7 am and people who roll in closer to 9:30 am. We all know when we're at our best, and we've figured out how to allow everyone to work at their peak times and still honor all of the collaboration we need to do every day.
Know your cycle: You don't have the luxury of not doing your best and most important work when you're at your best. So you need to know when that is. And odds are, you have different ideal zones for different types of work. You need to take into account two distinct factors. When is your output at the highest level and when are you the most efficient with the work?
Make a list of the top 5-8 tasks you perform on a regular basis. Email, meetings, ideation, writing, etc. Then, spend a couple of weeks trying to do those tasks at different times of the day. Monitor/record your outputs in terms of both quality and speed. Look for patterns and then build a grid that shows when you should ideally do what. You won't be able to honor it every day. But if you can three days out of five, you'll be stunned at the increase in the volume and the value of your work.
Shape your schedule: If you don't allocate and protect your thinking time, your trend tracking time and your vision creation time – it will never happen. You'll never have a day without a fire. You'll never have a day without too many emails. Whether it's a full day a month or blocks of time every week – put it on your calendar now and protect it.
If you want to be at the top of your game, you're going to have to give yourself an edge. Give these hacks a try and let me know if they've helped.