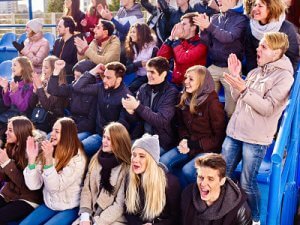 Last year, I spent a weekend with my daughter and her boyfriend at a Supernatural Convention in Chicago. If you're not familiar with the TV show Supernatural it's in its 13th season, largely due to the huge fan base that it has built and how vocal they are about the show and its very existence. Its parent network, CW, has been close to pulling the plug more than once in its thirteen seasons but the Supernatural community rallies and puts an end to the discussion.
Beyond just watching the show, over the timespan of three years, a small team of fans documented the power of the Supernatural fandom. They raised over $100,000 on indiegogo.com to create a 90-minute documentary on the phenomenon.
We just went because we all like the show and thought it would be fun to interact with the cast. I had no idea how huge all of this was until we experienced it first hand.
What started as a weekend lark turned out to be a crash course in creating rabid fans and a community that keeps the business end of the Supernatural franchise humming. I believe that one of the key marketing strategies that organizations need to understand, embrace and consciously invest in is that very thing – creating a fan base or community that is your foundation and strongest platform for amplifying your message.
Here's how the Supernatural team built their community. There's plenty of ideas for all of us to steal in their recipe.
Create an exclusive club: Everyone is not going to love you or what you sell. Don't worry about them. Focus on the people who do. Make them feel special by inviting them to private events, sharing some secrets with them and by restricting access to only the best of the best.
So many businesses invest all of their time and money chasing after the unknown. Instead, identify the customers who deliver your most consistent and profitable sales. Who loves you the most? How can you make them feel special?
Give them access: One of the hallmarks of the Supernatural phenomenon is the amazing access the fans have to the stars of the show. At the conventions, they're hanging around, joking with fans, posing for photos and appearing in casual Q&A sessions from the stage. They're also active on social media, sharing fan's tweets and posts and responding to questions and commentary.
How accessible are your leaders? Can your best customers reach them directly? Do they candidly connect with your most important audiences? Do they do it in an authentic way?
Create traditions that inspire emotional connections: One of the most impressive elements at the Supernatural convention was how they'd built some cornerstone traditions, like a Saturday night concert with the show's stars, into the event. The convention veterans couldn't imagine missing it and the newbies were hungry to experience it.
What traditions do your customers look forward to sharing with you year after year? If you don't have any – maybe it's time to create one. It could be a client only event or an annual charitable activity like working on a Habitat home that you invite them to share with you.
One of the mental shifts we all need to make when it comes to thinking about our customers is that they aren't customers, they're fans and the way our business survives is to grow and deepen the connection to our fan base.
Identifying, empowering and celebrating your biggest fans isn't just fun, it's a marketing 2018 necessity. Given the power and voice of our customers today, we can't afford not to make sure they have plenty of good things to say.