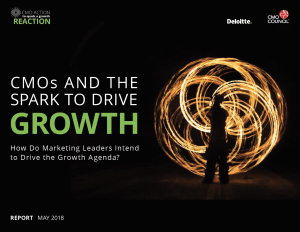 A new study from the Chief Marketing Officer (CMO) Council and Deloitte, surveying close to 200 chief marketers worldwide, revealed many CMOs are still focused on the traditional storytelling aspect of their position and are less comfortable with aspects associated with driving growth, including acting as revenue science practitioners and customer experience architects.
According to the report, "CMOs and the Spark to Drive Growth," 35 percent of respondents identify their role as being the chief storyteller, but only 20 percent view themselves as the market explorer that identifies and maps new routes to revenue. Additionally, just 7 percent say they are the data guru that understands the voice and expectations of the customer.
To download this study, click here.
"Sales and driving incremental revenue growth are the first steps on the path to profitability, but this is not the destination," noted Liz Miller, Senior Vice President of Marketing for the CMO Council. "What best practice leaders have demonstrated is that ownership of experience strategy and voice of the customer must inform key business decisions, ranging from product specification and identification of market expansion and global market readiness. This will require a new mastery of data and intelligence, along with skills that cross finance and operations boundaries that most marketers feel uncomfortable and unprepared to cross."
As today's CMOs remain focused on brand development, customer engagement, lead management and media mix modeling, they are missing the opportunity to focus on business transformation initiatives like mapping global expansion, facilitating mergers and acquisitions, pricing strategy or actively advancing distribution channels.
Of the marketers surveyed, 82 percent believe they are the primary driver of brand development and storytelling, only half believe they own customer experience strategy development. While marketers own the brand and how it melds into engagement and communications, they are also influencers across a vast list of critical business driving functions.
The disconnects between intention to drive growth and capacity to impact the bottom line beyond new customer acquisition continue. Consider that:
68 percent of marketing leaders surveyed expect to drive and optimize growth through new customer acquisition. Only 9 percent expect to impact growth through the introduction of new engagement or distribution channels.
Marketers agree that revenue is the top measure of growth for the organization (95 percent) and for their own personal definition (70 percent). However, while the business also considers gross margin and market share as the second and third indicators of growth, marketers instead look to brand valuation and customer acquisition shifts, highlighting a disconnect in how growth is fundamentally measured.
CMOs are allied with their organizations' president and head of sales in the development and shaping of new growth strategies, but they do far less to involve supply chain, product and operational partners—key leaders who sit at the front line of customer experience.
"What we hear from our CMO clients is that they are attempting to tackle some of their organizations toughest challenges, sometimes losing sight of keeping the customer at the center of it all," said Sheryl Jacobson, principal, Deloitte Consulting LLP and CMO Customer Transformation Leader. "For the CMO to be effective, they have to keep the customer at the center of every conversation and figure out solutions that will drive growth. But then translate the strategy into the languages of their c-suite peers."
The importance is for marketers to align their vision of success with both the customer's vision of need and value and the business' definition of growth and success. It will demand more than just a deep understanding of storytelling and the brand and will even transcend having an understanding of the business and the touchpoints spread across it. It will demand that marketers become cultural change agents, sparking innovation in how teams, technologies and touchpoints converge.
###
About the Study:
Findings of the "CMOs and the Spark to Drive Growth" study are based on a 10-question online audit of 191 global senior marketing leaders. Thirty-seven (37) percent of respondents hold the title of chief marketing officer, senior vice president of marketing or head of marketing, representing companies with revenues in excess of $1 billion USD. The 10-page whitepaper is available for download by visiting https://cmocouncil.org/thought-leadership/reports/cmos-and-the-spark-to-drive-growth.
This study is the first of three investigations into the CMO as the growth driver. Next in the series will be a summary of investigative dialogues with growth-driving CMOs, all hailing from fast-growth, sustained-growth or emerging-growth organizations. The final brief, dubbed the "CMO's Growth-Driving Playbook," delves into the steps and strategies that growth drivers have adopted to take a leadership position across sales enablement, customer experience and transformation of people, process and platforms across the organization.