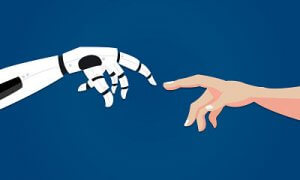 AI or artificial intelligence is, at its simplest definition, when a computer is capable of mimicking human intelligence and making decisions/taking action based on that intelligence.
We've been slowly evolving to AI being pretty commonplace for years. I'm not talking robot uprising. I'm really talking about tools that help us analyze data and choices to predict best outcomes. Odds are, you are taking advantage of AI today and just didn't label it as such. The iPhone's Siri and Amazon's Alexa are simple examples of AI. Both use machine learning technology to get smarter based on our choices and actions so they can serve our needs better with each interaction.
There's no doubt, given all of the consumer data we have at our disposal today, that AI and marketing will merge in some pretty interesting ways. Granted, we're talking infancy stages, but the truth is you are probably using it today without recognizing it.
Here's a quick look at some of the elements of our work where AI is already present and will have an even bigger influence down the road.
Digital media: Given the almost infinite number of advertising options and the advent of programmatic media buying it's easy to see how computer calculations and propensity modeling would save us time, remove the human bias and deliver projected outcomes. Results can be tracked, modeled, modified and improved upon in nanoseconds, as opposed to how long it would take us to do it manually.
Retargeting and ad targeting are two areas where AI is already playing a pivotal role and is getting better every day.
Content: As a writer, I will admit that I bristle at this idea. How can a computer possibly write as well as a human being? In many cases (at least for now) it can't. A computer can't generate copy that connects the emotional dots, but it can generate a report or content around factual dots. Check out Wordsmith.com and watch how they can take information like an earnings report or sporting outcomes and create very human-like copy.
There's also the area of content creation. Can a computer watch what people view and buy and then use data to know what that consumer should be shown next? Amazon, Netflix, and Pandora are already showing us how effective this is. Why wouldn't you want the same AI to be working on your website or other digital assets?
Who is your next buyer? This is a fascinating and sophisticated aspect of AI and marketing that many organizations have yet to explore. By using propensity modeling, predictive analysis can give you insight into who is ready to move from consideration to purchase and which of your existing customers is most likely to buy. It will also give you an idea of what kinds of offers (products, discounts, etc.) are most likely going to trigger that purchase decision.
From there, it's an easy jump to dynamic pricing. AI would help you determine who needs a discounted price to convert and who is ready to buy without you having to give up part of your margin.
Earlier in the sales cycle, AI can help with lead scoring. The idea that a computer can sort through our prospect list and tell us where to concentrate our efforts is very appealing.
There are many industries and professions who are probably right to be a little nervous about AI. But for us marketers – AI is poised to be a huge advantage in how we work. It has the capability to help us measure and deliver ROI in a very efficient way, which allows us to spend even more time on the creativity and innovation sides of our business. Because in those spaces, we are irreplaceable.