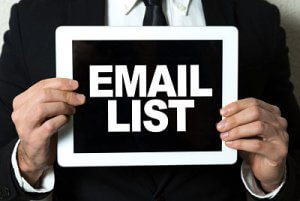 If you've been following along, we've been talking about some marketing resolutions to help you get a jumpstart on your 2019 marketing plan – email, reviews, video, etc. Over the next few posts, I'm going to tackle these suggested resolutions one by one and help you map out how you can crush each one in 2019.
In case you missed it, the resolutions were:
Build your email list
Work on earning great reviews
Produce more videos/build a YouTube channel
Do less but do it better
Today we're going to tackle building your email list. Having a strong email list is vital for your business. It's an asset that you own, and you control. Very few platforms convert more consistently and continuously than effective email campaigns.
Email allows you to target sub-sections of your list, be personal in your delivery and really take advantage of the one to one medium. But before you can take full advantage of your email list – you need to have one.
Make your content something they actually look forward to receiving. While that seems obvious, very few organizations deliver on it consistently. Your content can't be about you, your team, your special sale or some award you've just won. It has to contain ideas or resources that they can learn from, use or share.
Offer different types of subscriptions. Create different resources for different audiences. Help them self-select what insights would be most valuable to them and serve it without the content they don't care about. You might also offer a variety of frequencies. One person may prefer a monthly communication while another would rather get it in bite-sized pieces every week.
Create free tools, resources or guides that you can trade for email addresses. The key to this strategy is that there has to be a lot of meat on the bone. You can't earn your prospect's trust if you skimp on this kind of content.
Create links to capture email addresses throughout your website. Don't just count on your "sign up for our newsletter" button on your home page. Pepper opportunities for people to join your email list on a variety of pages. Serve up different offers based on each page's subject matter.
Use other platforms to promote your content. Email may be one of the most effective platforms, but that doesn't mean the other platforms should be ignored. When you've gone to the effort of creating something that is really noteworthy – share it out. Create a private Facebook group or Pinterest board to woo prospects to get a little closer. After they see that you're focused on adding value to their world – invite them to partake in some of your gated content.
Don't forget offline events and activities. While we live in a digital world, there's still plenty of analog activity that allows you to connect with people and identify common interests and needs. As you work your way through networking events, trade shows, conferences and all the other places you bump into people you can help – make those connections. After you nurture those relationships, extend the invitation to join your list so they can get even more of your goodness.
Focus on the two parallel goals in terms of your list. Grow it in quantity and also grow it in terms of engagement. You want people to reply, share, and come to rely on your regular communications. Calendar your communications, so you stay consistent and invest the right amount of time and resources, so you are always serving up something worth getting excited about, from your audience's perspective.
That's step one to a very successful 2019.
Next, we'll tackle the second resolution – getting reviews from your raving fans so you can attract more raving fans!