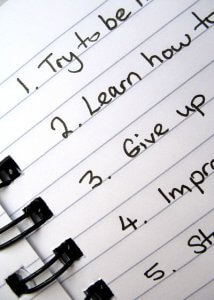 If you're like most people, you set some New Year's resolutions back in January. I have no doubt that by now you've stopped smoking, swearing, overeating or showing up late to pick up your daughter at daycare.
Since you've mastered all of your personal resolutions, what about your professional ones? Maybe you've made some headway or even mastered a few of them by now but my guess is that most of them have gone by the wayside in the day to day chaos of marketing.  It's never too early to start thinking about next year and as such, I'd like to spend the next couple of weeks getting a jumpstart on brainstorming what your resolutions for 2019 might be, by suggesting a handful for you to consider.
Build your email list: Most of us check our email before our feet touch the floor in the morning. Email is such an integral part of our life that we take it for granted. But your email list is one of the most valuable marketing assets you have. People are willing to give you their email because they believe you'll send them content they find valuable. Do that on a consistent basis and you'll earn their trust and eventually, some of them will invite you to earn their business.
In 2019 you need a game plan for securing more email addresses and delivering a higher level of content to that list on a regular basis. There are lots of ways you can get someone to happily give you their email address. Think bigger than the "sign up for our newsletter" box.
Work on earning great reviews: When you go to Amazon or Yelp or even when you search for a specific type of business – you notice the ratings and reviews, don't you? It's difficult to ignore them and it's equally difficult not to be swayed by them. Reviews are playing a much bigger role in influencing the search engines as well as potential buyers'.
2019 should be the year that you actively solicit reviews from the customers who love you. Don't leave it to chance. Create simple ways for them to tell the world that you're a five-star business.
Produce more videos and build a YouTube channel for your organization: Videos are such a wonderful storytelling tool and you can't ignore that in 2019. Whether you are teaching your prospects something, trying to influence them or entertain them – it's hard to beat the multimedia appeal of video. Don't be afraid to explore behind the scenes content and true brand journalism as you concept your next video series.
2019 is the year to get over your discomfort of the camera. Remember, you don't have to be in front of the camera to create compelling video. There are many cost-effective ways to produce compelling videos that connect with your audience and give them a real sense of what your company is all about.
Do less but do it better: There are too just too many options out there. Snapchat, Facebook ads, billboards, referral programs, newsletters, print ads, etc. And that just scratches the surface. Even if you have the marketing budget of Coke, you can't do it all. So rather than trying to dabble in everything, resolve to winnow down your marketing tactics so you can go a mile deep, rather than an inch deep and a mile wide.
Make 2019 the year that you actually eliminate some marketing tactics. Identify the ones that deliver the best ROI and do them more often and better. Explore ideas on how to expand the value you deliver through the tactics you decide to keep and work on elevating your game, rather than expanding your efforts.
Pick one or two of these and weave them into your marketing plan for the upcoming year. Leverage these trends and best practices as you map our your marketing strategy for the coming year. Do that and you'll crush your 2019 sales and profit goals.