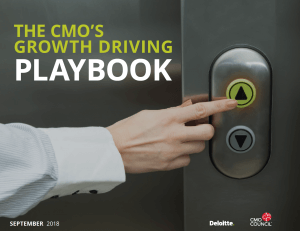 The CMO Council just produced a very interesting guide that I think we should all review and think about as we begin our 2019 planning.
The study, called "The Growth Driver's Playbook," highlights insights gleaned from a survey of 200 senior marketing leaders as well as 12 deep-dive interviews with growth-driving CMOs from brands like Hershey's, Lyft, Aston Martin and others.
The CMO Council leveraged these insights to create 5 key plays all growth-driving CMOs should have in their strategic playbook. These growth leaders stem from a combination of newer brands experiencing rapid growth, as well as more established brands that are leveraging unique marketing-led strategies to drive new routes to revenue. 
About the CMO Council
The Chief Marketing Officer (CMO) Council is the only global network of executives specifically dedicated to high-level knowledge exchange, thought leadership and personal relationship building among senior corporate marketing leaders and brand decision-makers across a wide range of global industries. The CMO Council's 10,500-plus members control more than $500 billion in aggregated annual marketing expenditures and run complex, distributed marketing and sales operations worldwide. For more information, visit the CMO Council at www.cmocouncil.org.