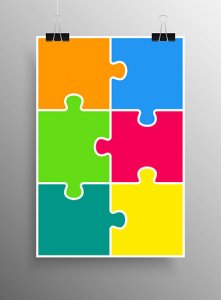 We're knee deep into a series that is focused on helping you plan for 2019 by identifying the channels too critical for you to ignore. Today, we're going to investigate the value of infographics.
Visual content works. Consider these facts:
The human brain processes visual content 60,000 times faster than it does text.
Infographics are liked and shared on social media three times more than any other type of content.
High-quality infographics are thirty times more likely to be read than text articles.
An infographic allows you to communicate complex ideas in an easy to understand format. They make it easy to show the relationship between various elements so your audience can see the bigger picture.
You can deliver more information because the format itself is simple, clean and holistic in how it presents your ideas. If your audience needs to understand how one fact or choice impacts other elements – an infographic may be the right choice. If you know that your audience is faced with multiple options, help them follow the path to the outcomes tied to each decision.
Infographics are also a smart option for telling a linear story and showing the flow of events in a relational way. Think of it like a storyboard that outlines the key events or milestones. You can use colors and design choices to suggest emotions behind the facts and set a tone for the entire discussion.
For those of you that invest in research, be it a customer satisfaction survey or actually going out into the field and doing primary research, consider using an infographic to communicate the most important findings. You will enjoy the increased distribution that infographics garner and you'll be able to connect the dots for your audience.
Infographics are incredibly effective when you need to communicate the facts underneath an emotional issue. By using graphics, facts and building the story to show multiple sides of an issue, you can help your audience separate their sentiments and examine the data so they can make an informed, fact-based decision.
As you might imagine, infographics are a no-brainer when you need to demonstrate something visually. Whether it's a spatial relationship or a comparative that is tied to how the elements look, you need to show it, and an infographic gives you that ability.
If you're going to jump on the infographic bandwagon, there are some best practices you need to keep top of mind.
Be mindful of your audience. Think about your color, font and graphic style decisions based on who you're talking to. You also need to think about your own brand standards and make sure that you don't violate those boundaries.
Be mindful of the size. Remember, you're going to be sharing this on your website and social channels. A file that is too wide or too long will either display badly (or not at all) or discourage people from passing it along.
Remember that color and fonts are critical tools. This isn't just about the colors or fonts that your designer likes or even your own brand standards. The color palette and font choices within your infographic are all about making your information easier to consume. Be mindful of color contrasts and font legibility and how they help tell your story.
Infographics offer marketers a fresh way to share the complex, demonstrate connections and make a compelling case that would normally be dry and less interesting. Think about how you're communicating some of your more complicated messages and explore whether a visual representation would make it more compelling and easier to understand. Infographics probably aren't going to be the staple of your 2019 marketing toolkit, but they should probably be one of the supporting elements.