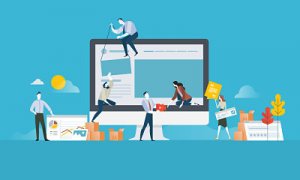 I am hoping that you're still giving some thought as to how to head into 2019 with smart marketing that gives you the edge. To that point, we're continuing with the ongoing series I've been writing on the most important marketing channels to consider for 2019. The focus of this post may seem like a "duh" but honestly – most businesses still get this wrong. Your website is THE workhorse of your marketing toolbox. I don't care who you are, what you sell or how big your business is, without an effective website, you are losing sales.
At some point in your buyer's journey, they are going to visit your website. It's pretty much that cut and dried today. If you remember the statistic, I quoted earlier in the series, 92% of consumers visit a retailers website before making a purchase. 94% of business-to-business buyers check out your site before committing.
Here's what they are looking for when they visit. Do an audit of your site to make sure you are providing exactly what they need to see before they say yes to your offer. Not only do all of these elements need to be there, but they also need to be easy to find.
Proof that you get them: Everyone believes that their circumstance is unique and they want to work with someone who understands their situation. If you serve families, make sure that your copy explains why you have insight into that world. If your business works with IT departments, then your copy and visuals need to demonstrate that you live in that world too.
This is not your first rodeo: This is not about making the site all about your 25th anniversary, which for the most part is only a big deal to you and your team. But it is about demonstrating that you've been successful in your field for a while now and that you're not going anywhere. You can talk about your company's history, the tenure of your employees or customers or how the industry has changed. Be interesting in documenting your depth of expertise.
That other clients like and trust you: Earlier in the series, we discussed the power of ratings and reviews. Whether you go the ratings/review route or you go old school and use testimonials – you need the social proof that other people count on you and you don't disappoint. Ask your current customers to tell a story about what you sold them. Don't make these so brief that they don't capture both the before and after.
How to contact you: This blows me away, but many businesses make it difficult for a potential customer to actually reach them. Make sure that your email address and phone number (not just a form) are visible and available on not only your contact us page but also in your footer or header on every page.
If people actually come to you to make a purchase, be sure you include your hours of operation, physical address and a map. Don't forget your social media links as well.
The details of what you sell: By the time they visit your site, the potential buyer wants to know the specifics of your products or services. This may be the right place for strong visuals, be it photos of your products or a visual outlining a service process or outcome. This is a really smart spot for some additional testimonials as well, that tie into your descriptions.
Make sure you follow this list to the letter.  You and your business can't afford not to.